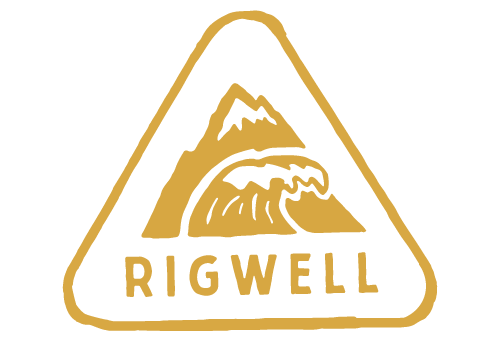 We like to keep things modern and minimal in our builds. Our goal is to give you everything you need and nothing you don't. Ultimately, this creates a more functional build and allows you to do the things you love more easily. Our modern design philosophy starts with the materials we choose to build our vans with. Every piece of furniture we design starts with a rugged aluminum structure and is complemented with beautiful natural bamboo plywood. A match made in heaven.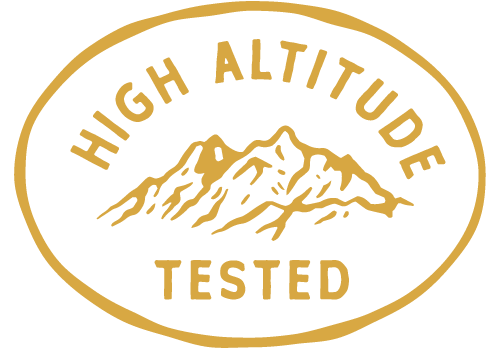 Every component of our vans starts with a concept and then gets handed off to our in-house engineer. From there, the idea comes to life with 3D CAD software. Finally, we can produce the part using highly accurate laser and CNC machines. All that jargon means our components are super strong, light, and durable. But don't take our word for it—we have hundreds of DIY customers using our products every day. Did we mention all our products are made right here in the USA?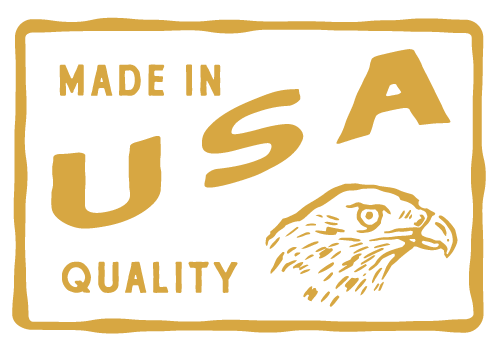 At the end of the day, the difference between a professional van build and DIY comes down to craftsmanship. It's the small details that really make the difference. We take great pride in our upholstery, wood, plumbing, and metal finishing. We are also happy to back up our work with a three-year limited warranty of all Rigwell components and a one-year limited warranty on all of our partners' components.
We're a licensed and bonded dealership in the state of Colorado. We generally have a few well-equipped vans in stock that are ready for builds.
Click HERE to see our inventory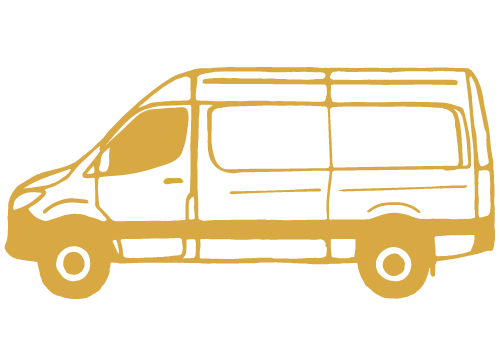 Already have a van? No problem! We're happy to build on your van as long as it is new and has not had a build in it previously.
Click the drop-down arrows to view more information on each package.
(Upgrade) = Not included in base price but can be purchased
(Optional) = Included in base price but can be removed
- Driver-side extended depth flare with slider window
- Passenger-side flare with no window
- Flares color-matched to body color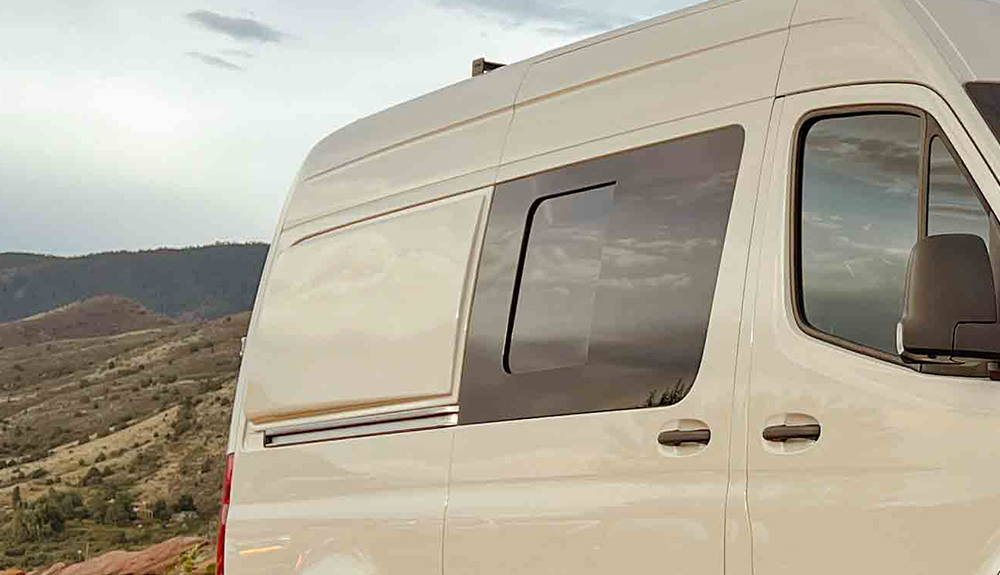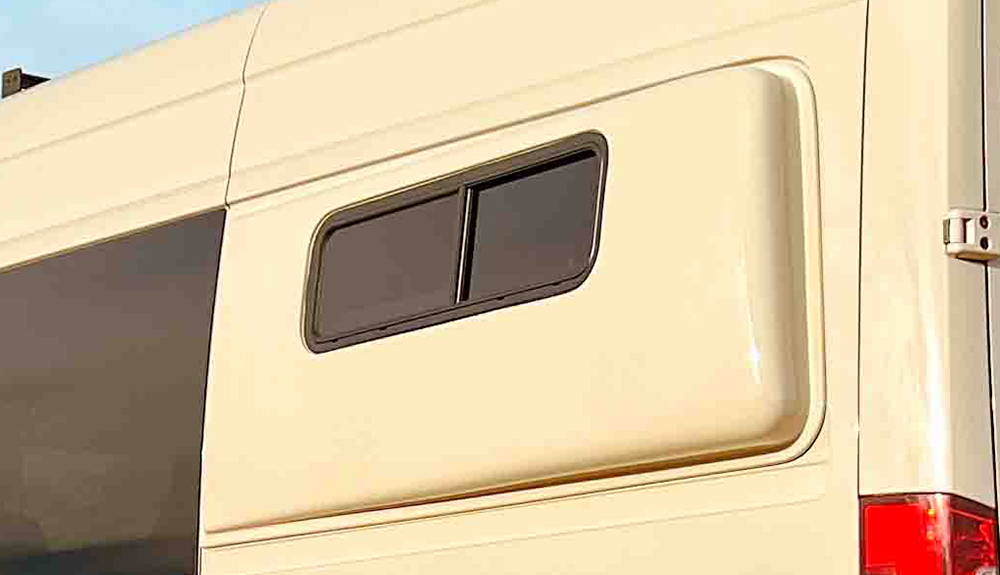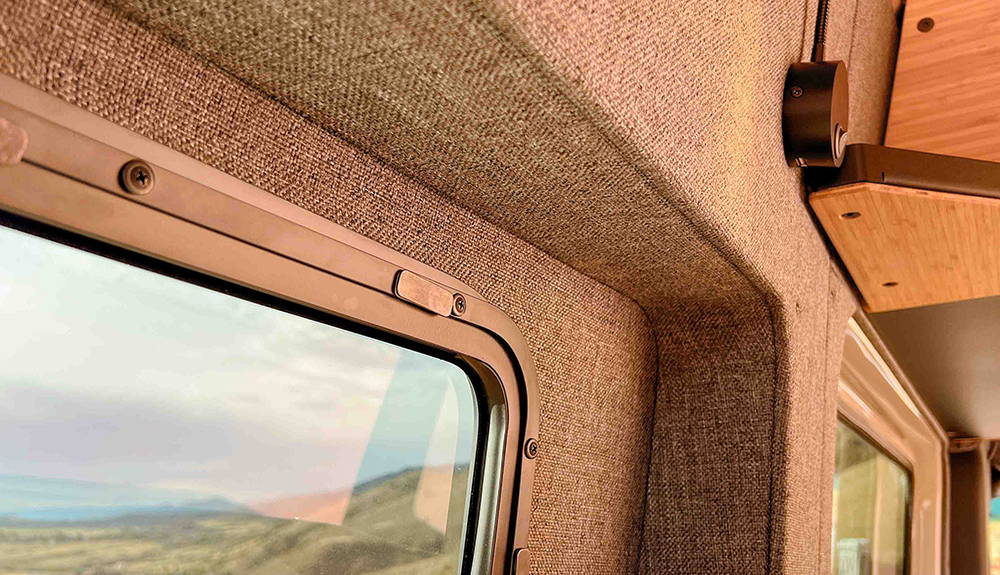 - Kilmat sound deadening
- 3M Thinsulate
- 1/2" polyiso insulation under floor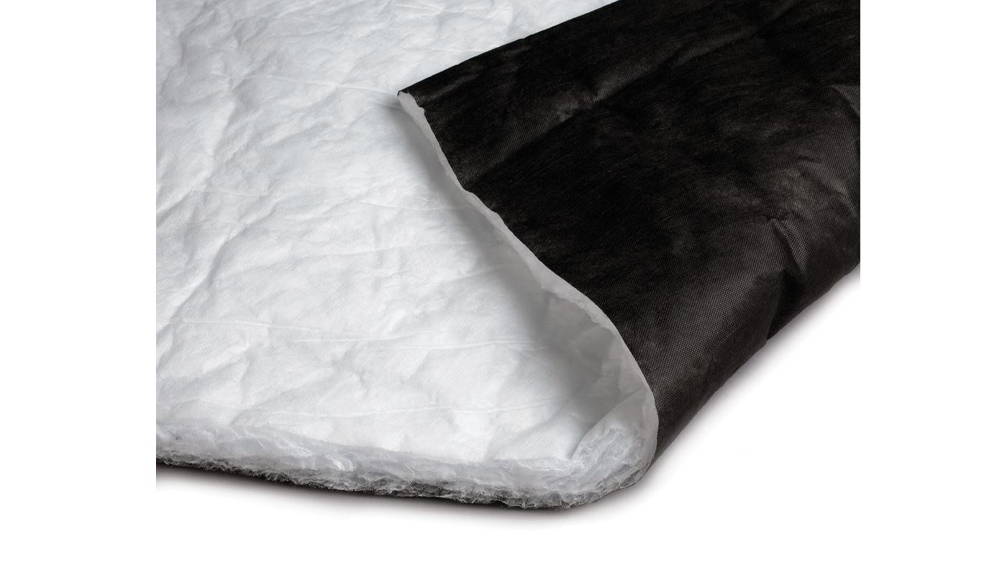 - Lonseal Marine coin vinyl flooring
- 1/2" polyiso insulation
- Kilmat sound deadening
- Choice of color, call for options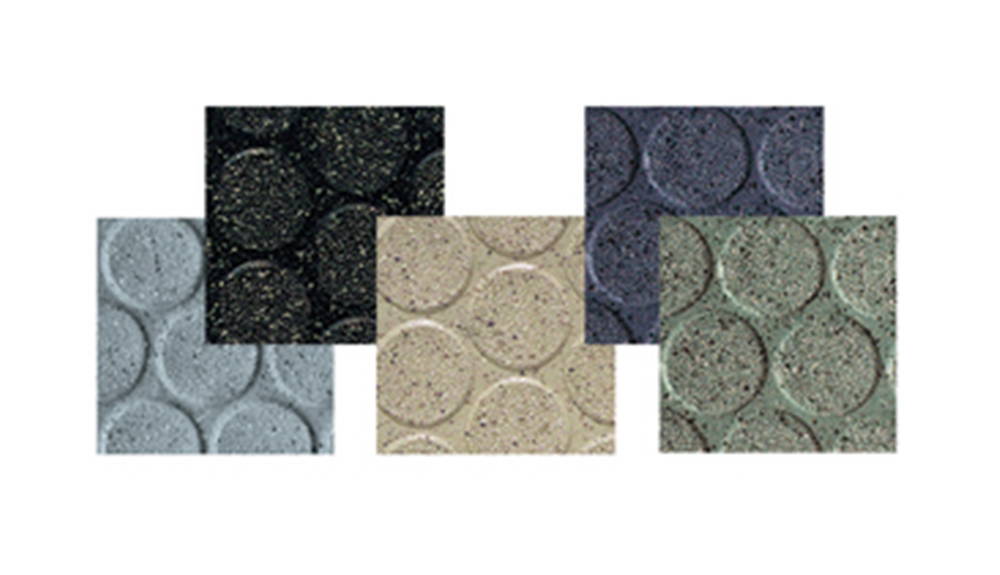 - Custom aluminum switch plates
- 8 dimmable overhead puck lights
- 2 over-bed reading lights
- Backdoor load lights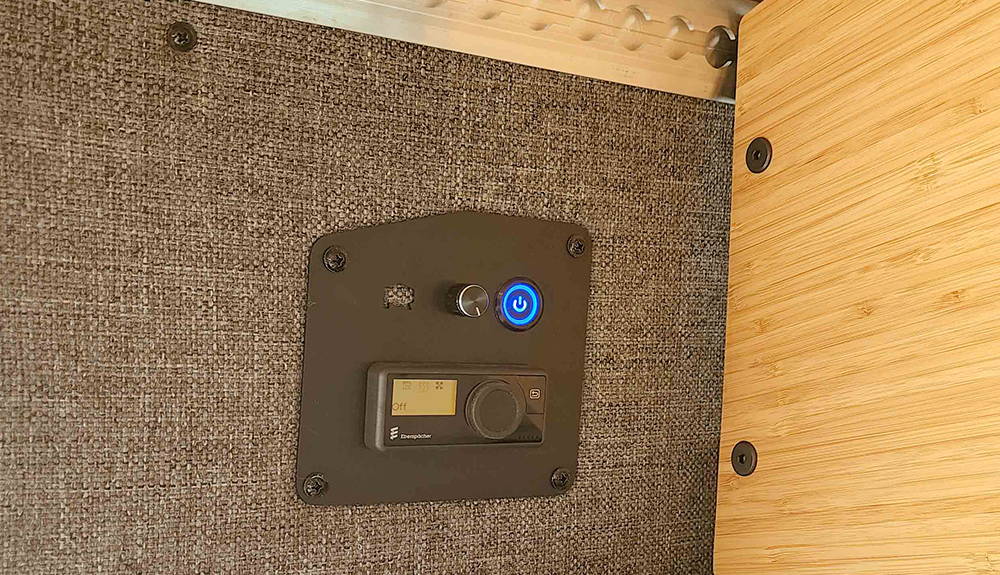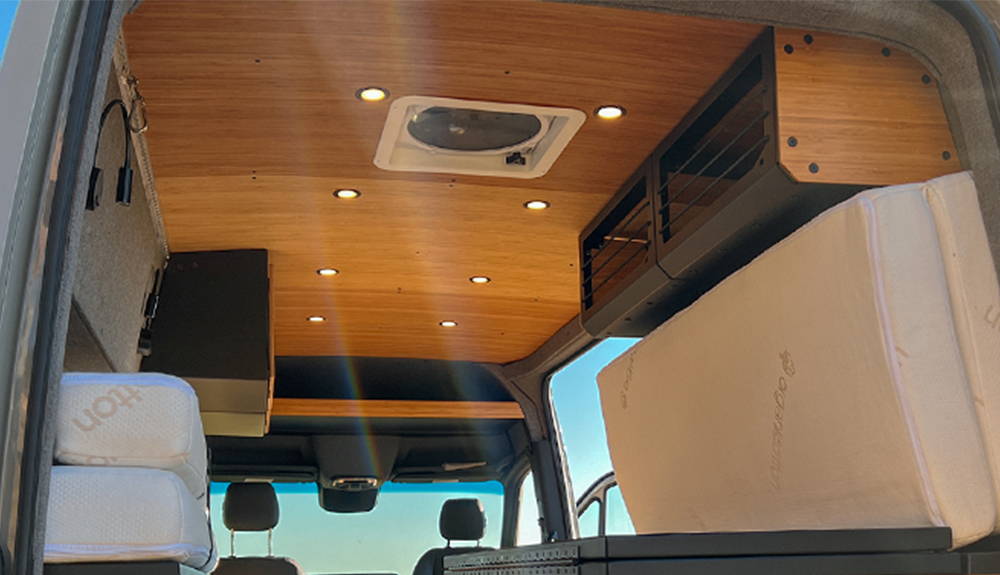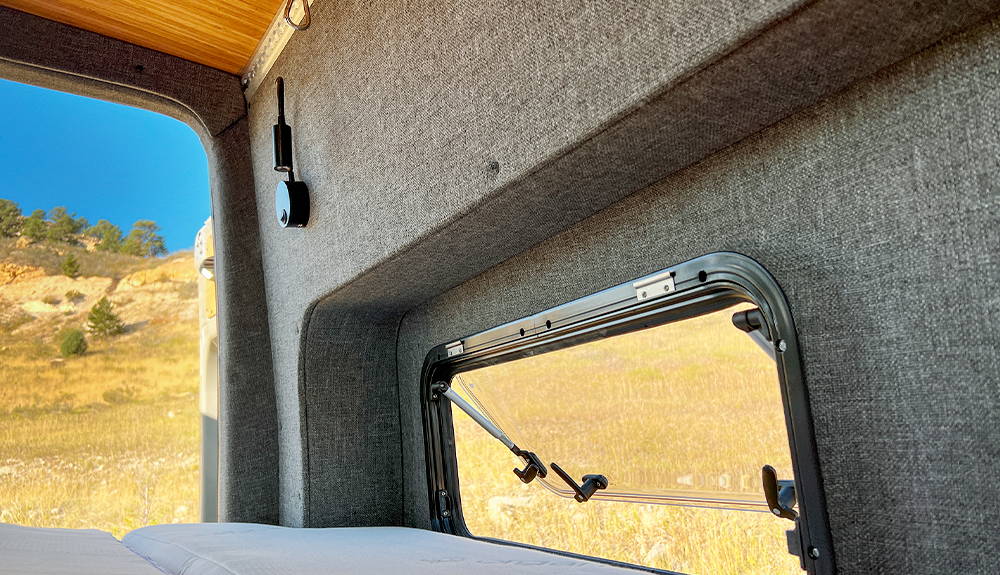 - - Maxx Air fan, choice of forward or rear position
- Two Maxx Air fans (Upgrade)
- AM Auto slider window, driver-side second row
- Driver-side Flarespace slider window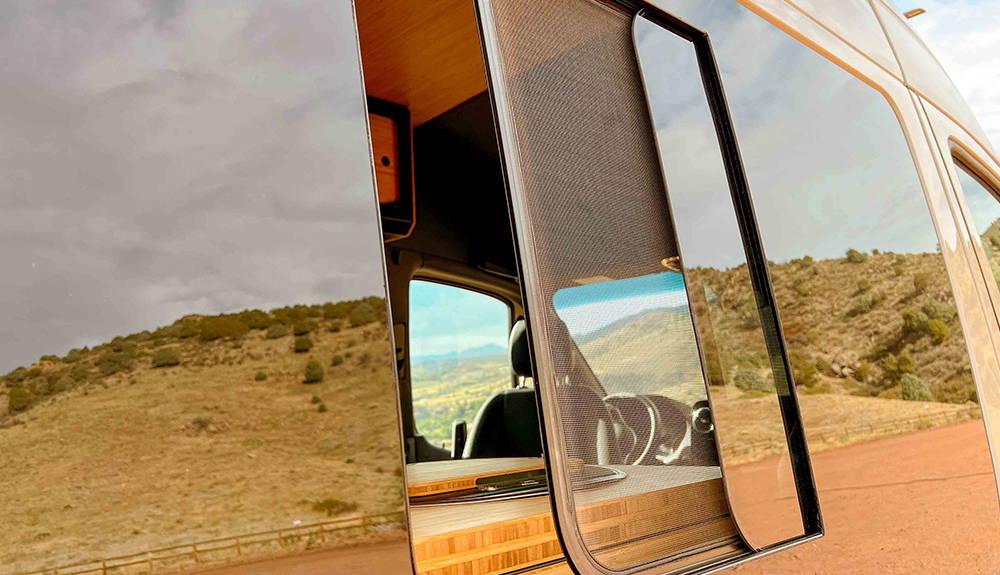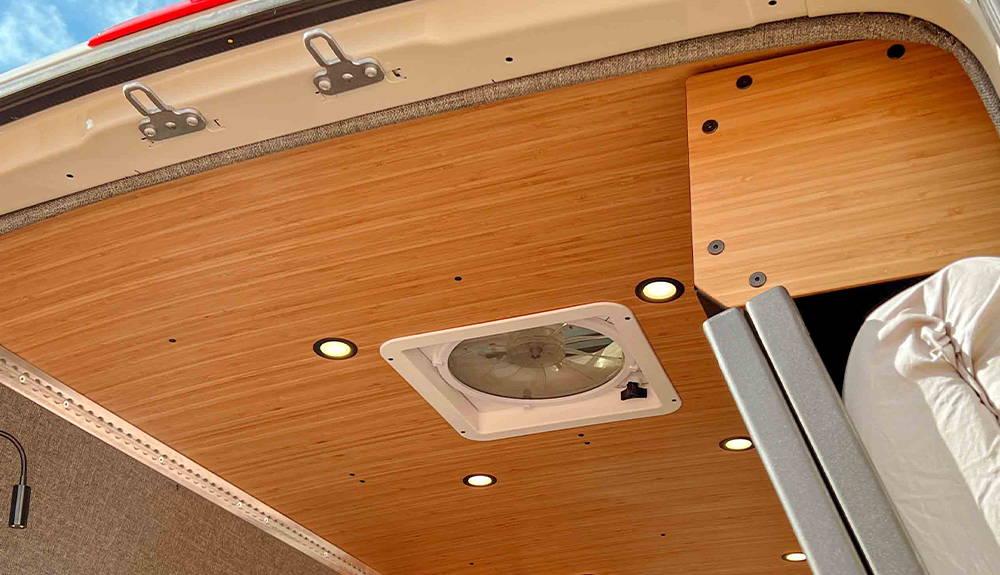 - Eberspacher Airtronic S2 D2L
- Built in high altitude kit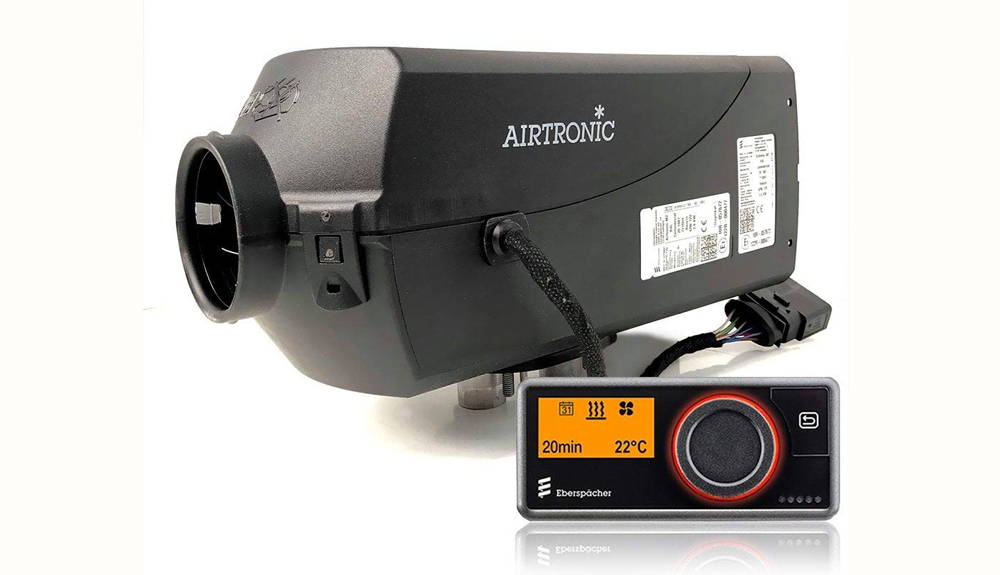 - Custom aluminum sliding-door trim
- Custom aluminum rear-door trim
- Both powder-coated black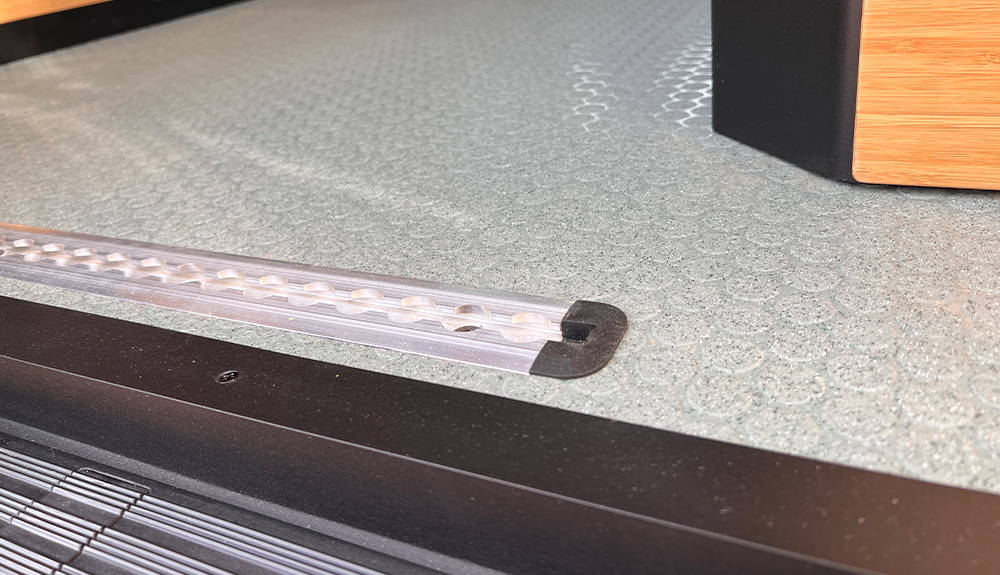 - Carbonized bamboo door cards
- Rear doors and sliding door
- Full carbonized bamboo ceiling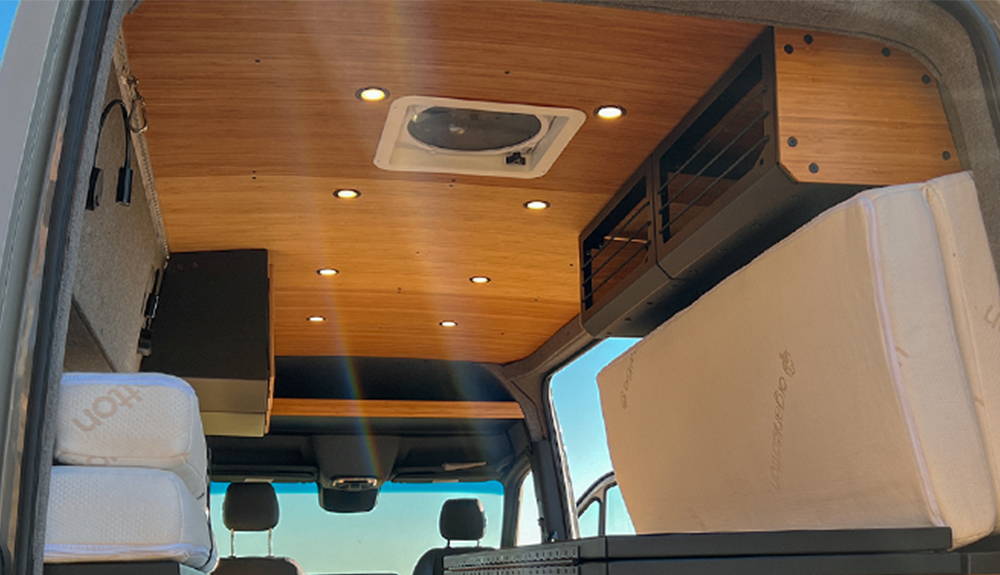 - Backdoor bike-mounting strip
- Bike fork mounts (Upgrade)
- Driver and passenger walls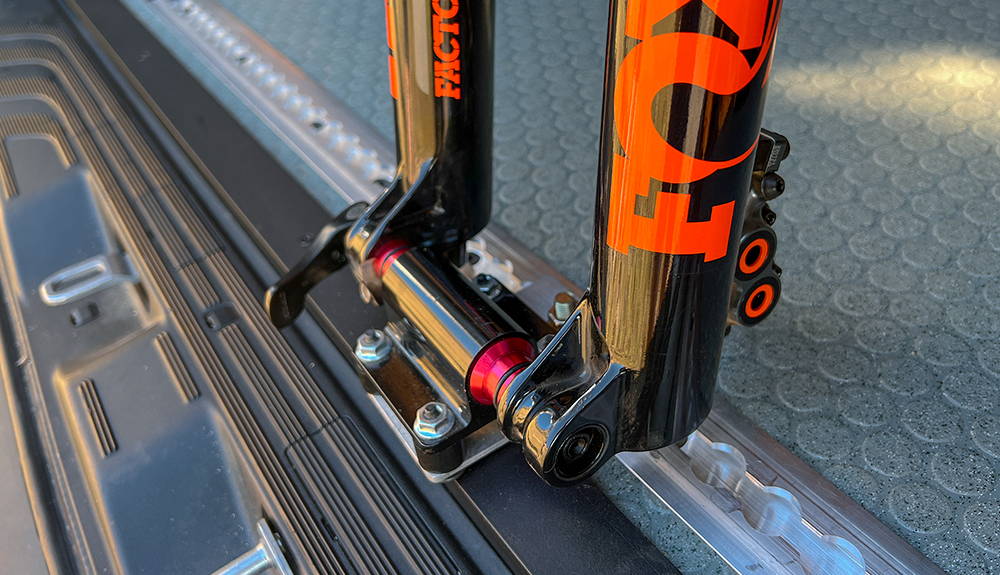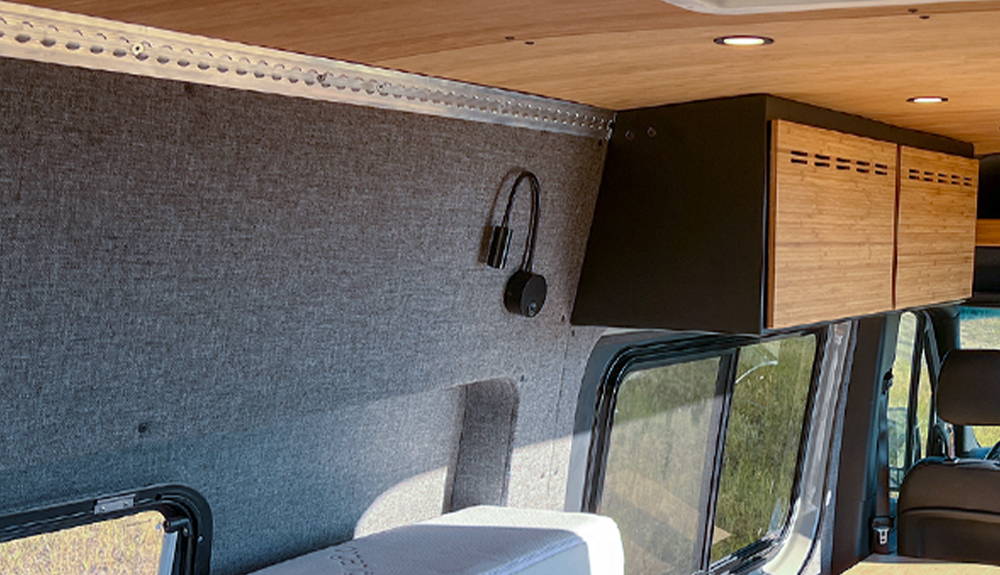 - Marine-grade wiring
- Goal Zero 1500X (Upgrade to 3000X or 6000X)
- 2000-watt inverter, 3500 surge
- Easily accessible 12V fuse panel
- Three 110 AC house outlets
- Three USB DC ports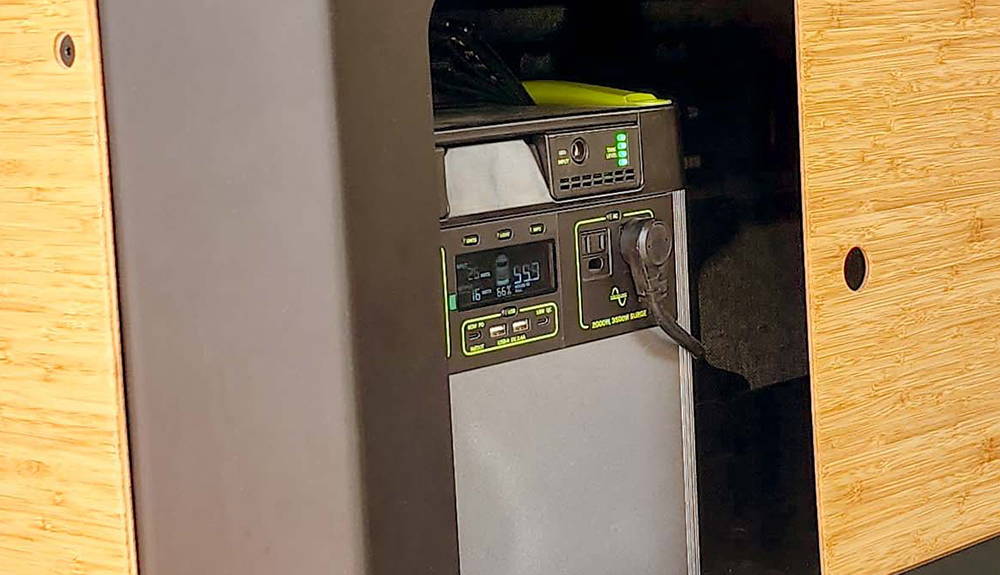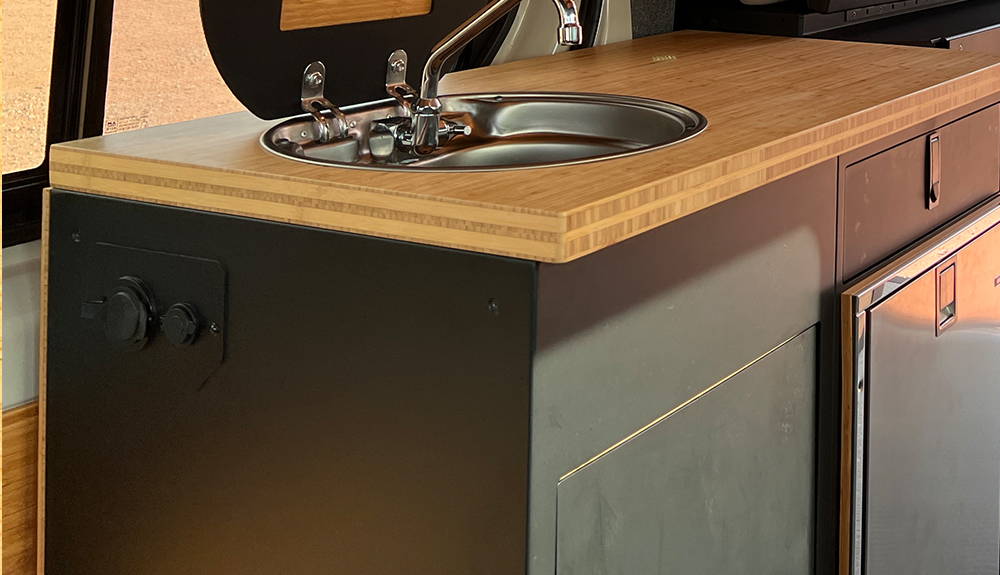 - Camp Deck Mini with 2 crossbars
- Camp Deck Slim (Upgrade)
- Camp Deck Baja (Upgrade)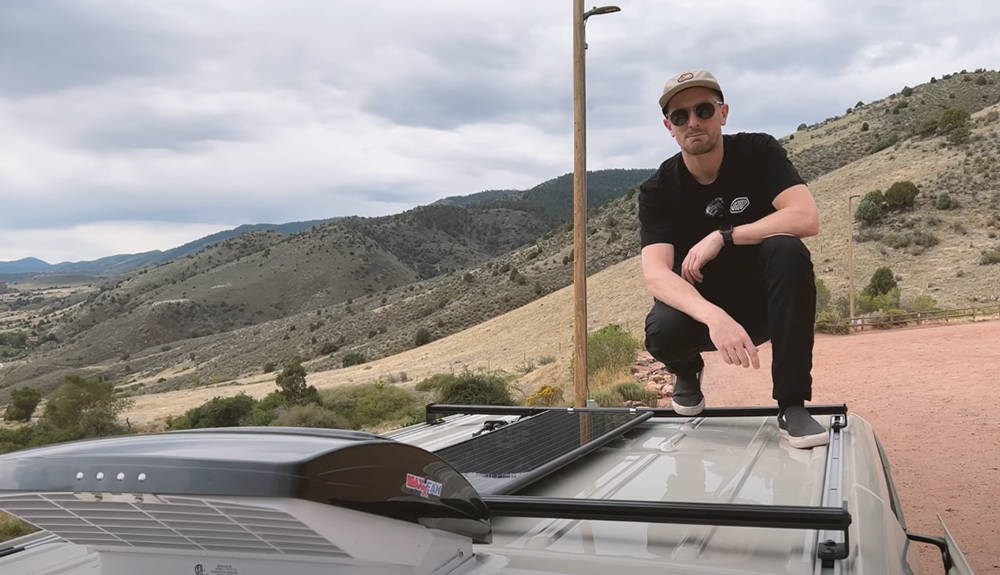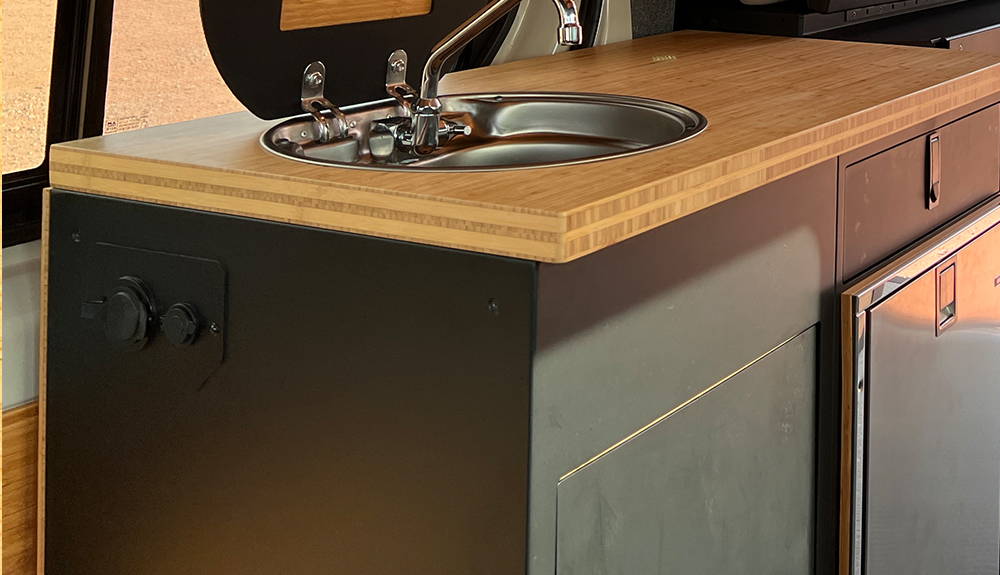 - Driver-side second-row AM Auto slider window
- Passenger-side second-row solid glass window
- Rear windows (Optional)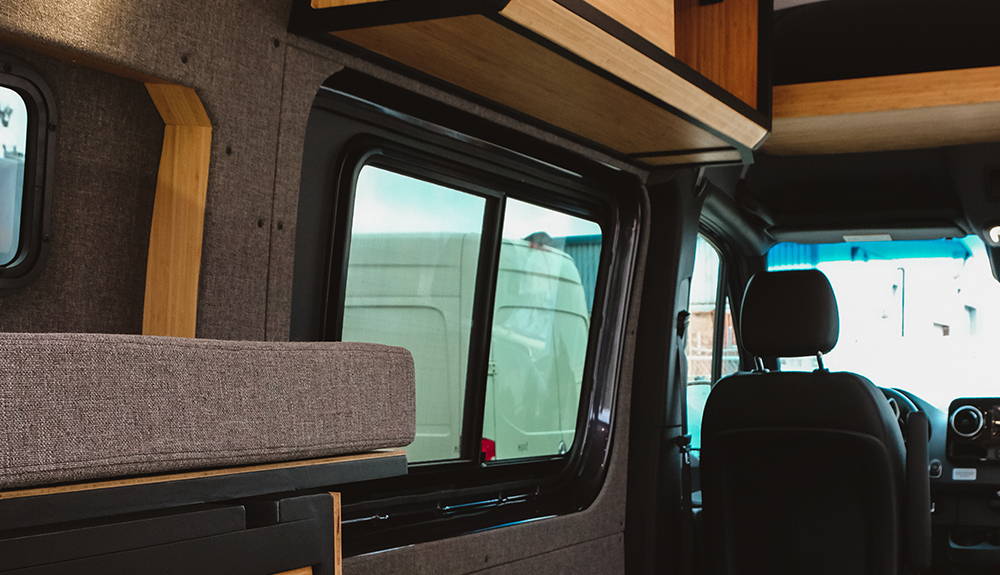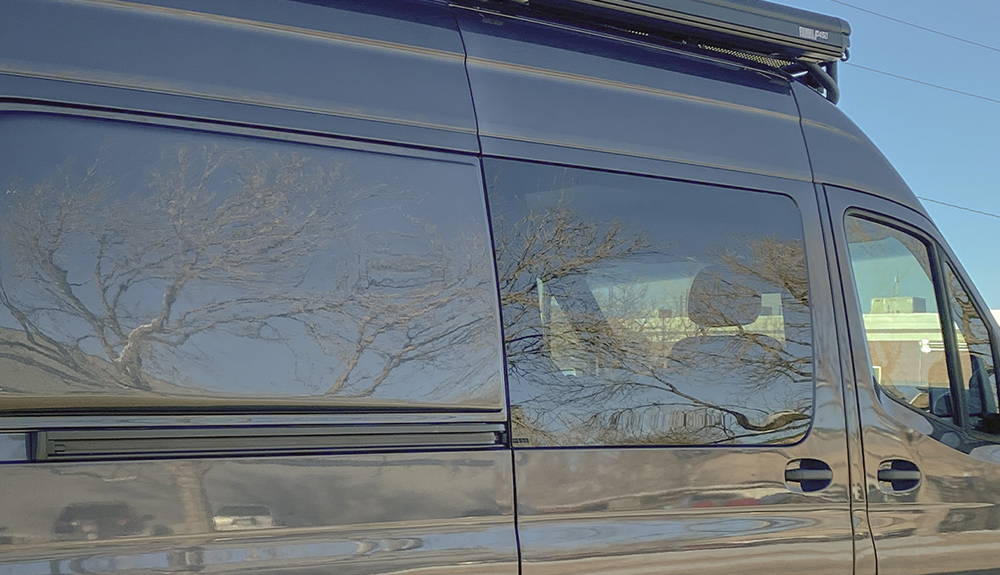 - Nomad Modular Murphy Bed Systems
- Nomad 5-inch custom hinged mattress
- Sheet set (Upgrade)
Learn more about the Nomad Bed Here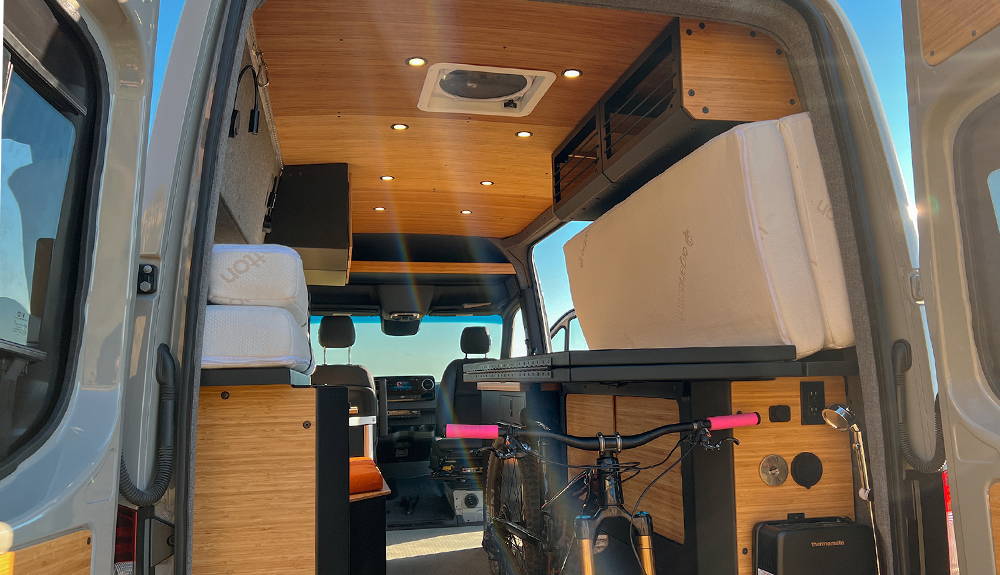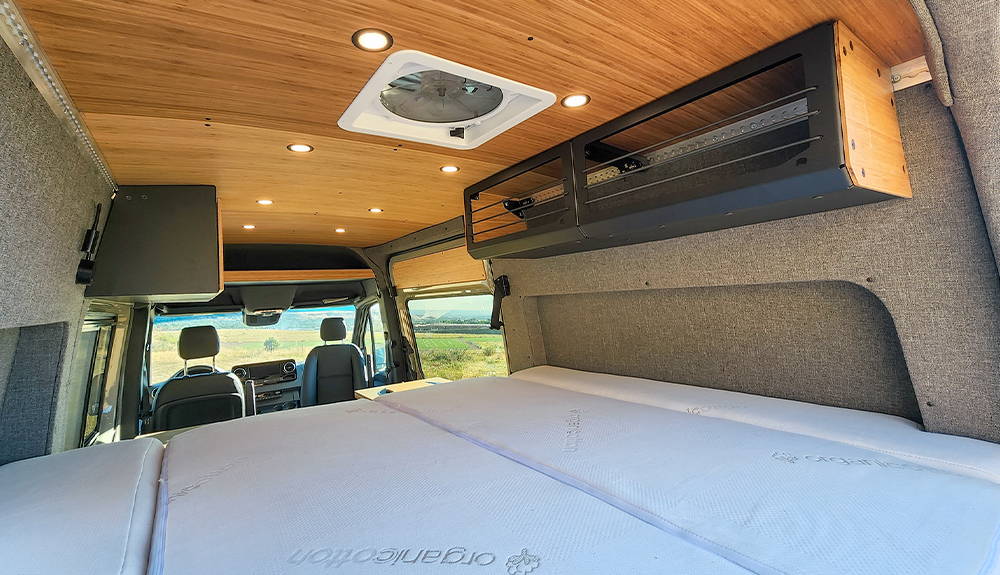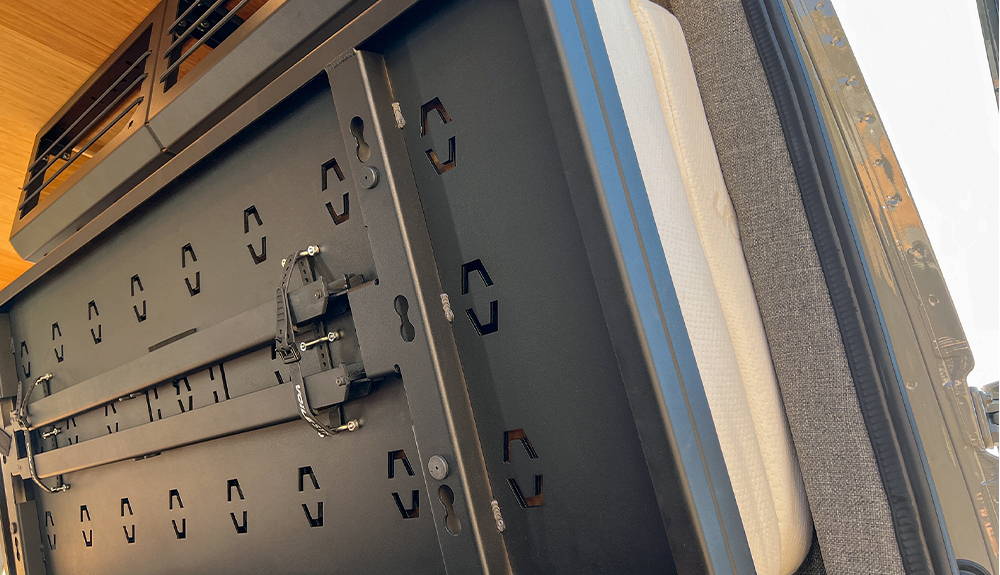 - Upholstered and foam-backed wall panels with Marathon Tweed, choice of color
- Upholstered headliner plugs
- Upholstered backdoor arches
- Slider-door upholstery (Upgrade)
- Upholstered interior trim rings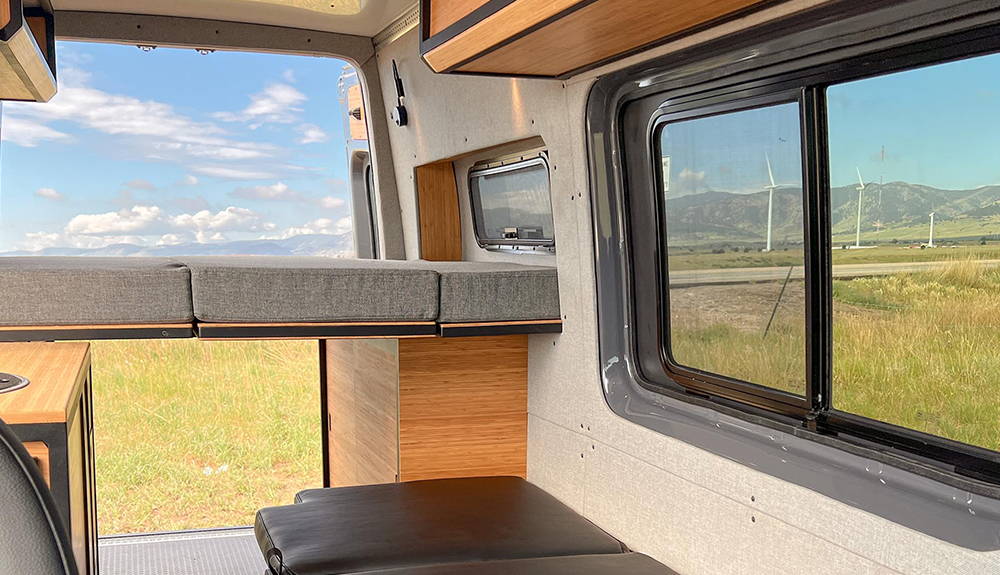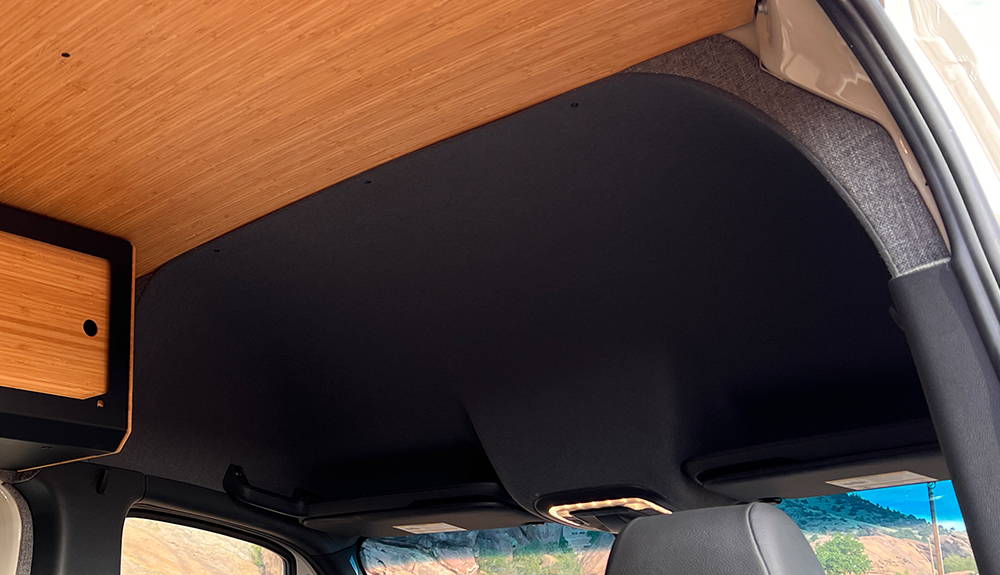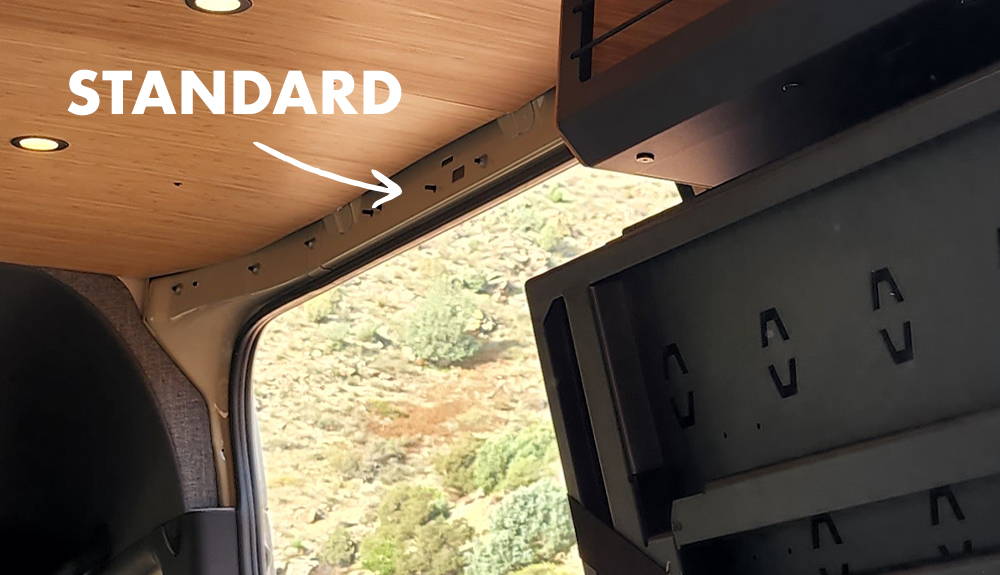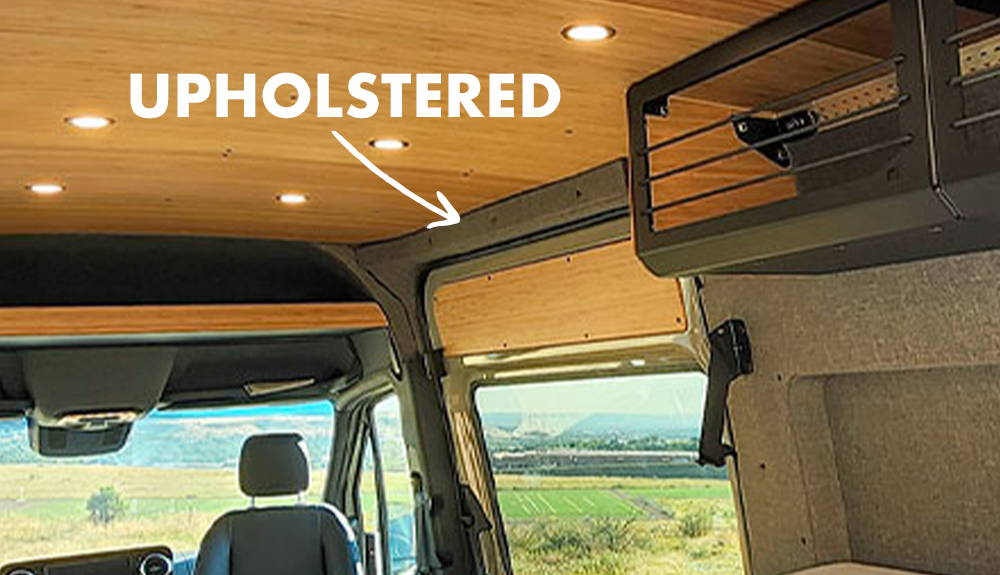 - Lowers Rigwrap™ (included)
- Flarespace Rigwrap™ (Upgrade)
- Hood Rigwrap™ (Upgrade)
- Choice of Rigwrap™ color
Learn more about the Rigwrap™ Here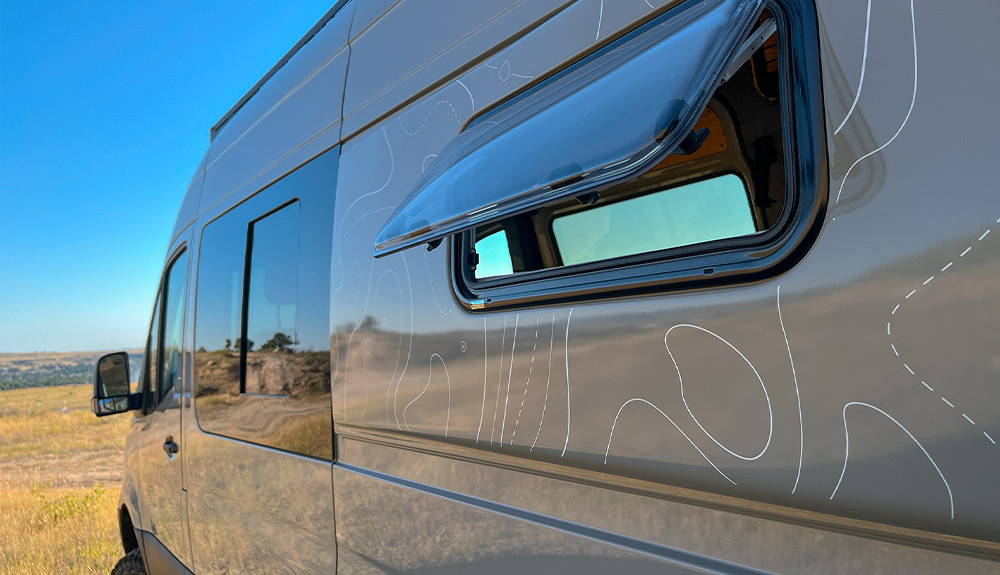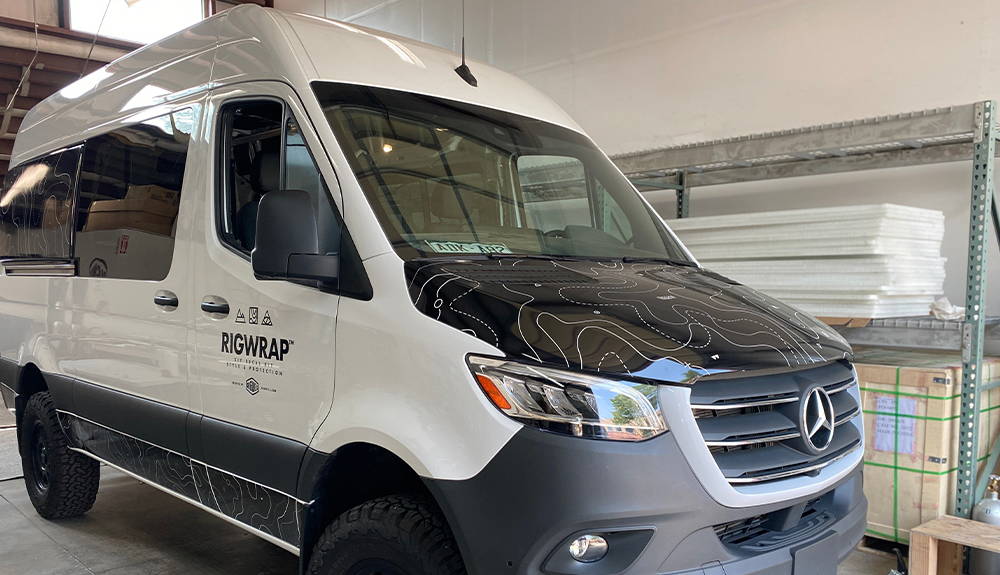 - Alternator charging
- 90-watt Zamp Solar panel
- Shore power charging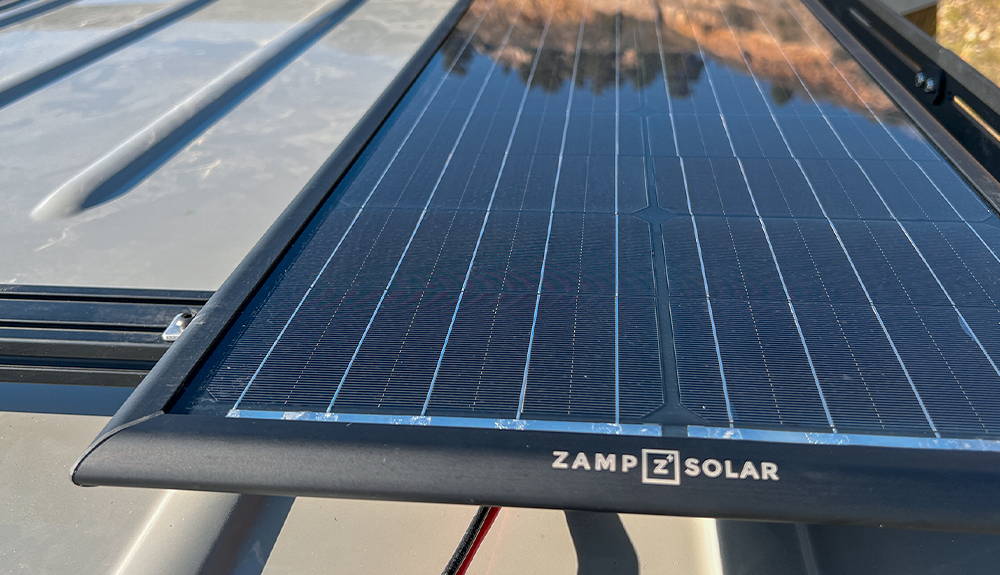 Add any upgrade package to the base build
to get exactly what you want and nothing you don't.
Stash Cabs is our new series of super light-weight upper cabinets.Each cabinet is built from laser cut aluminum and CNC formed with bamboo end caps. Stash Cabs were designed to be mixed and matched to create your ideal type and amount of storage.
- Stash Cab Slider 48"
- Stash Cab Shelf
- Stash Cab Slim Open
- Stash Cab Slim Shelf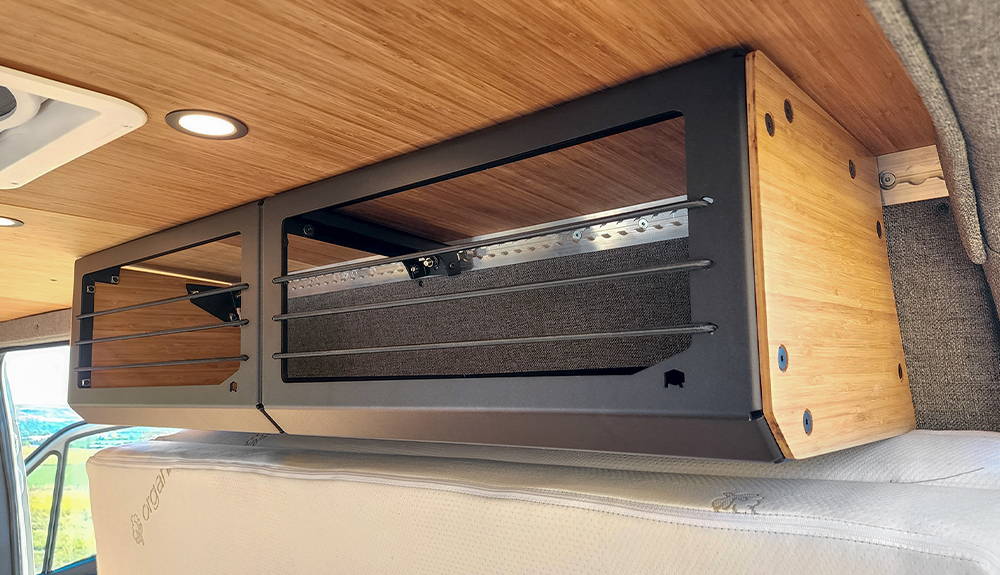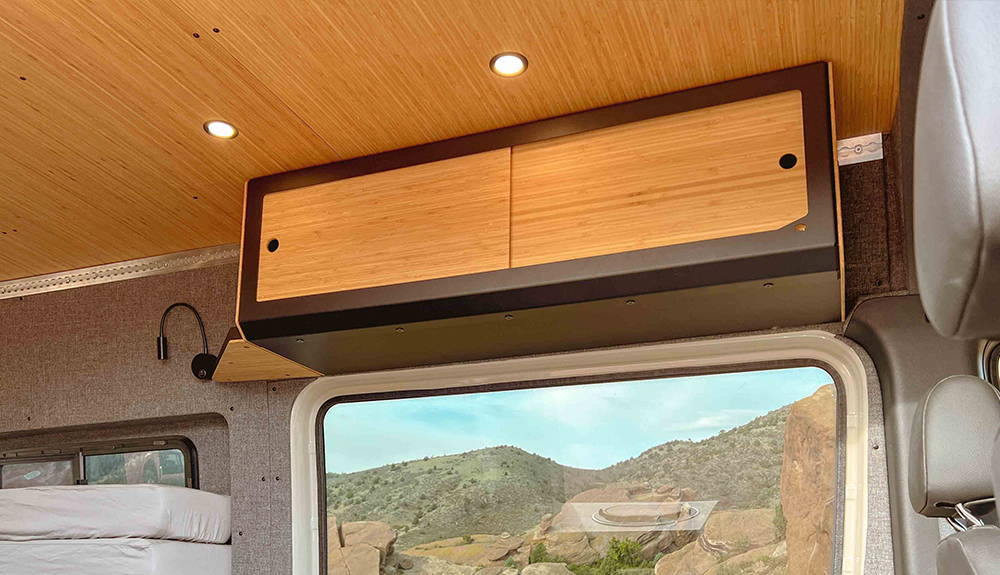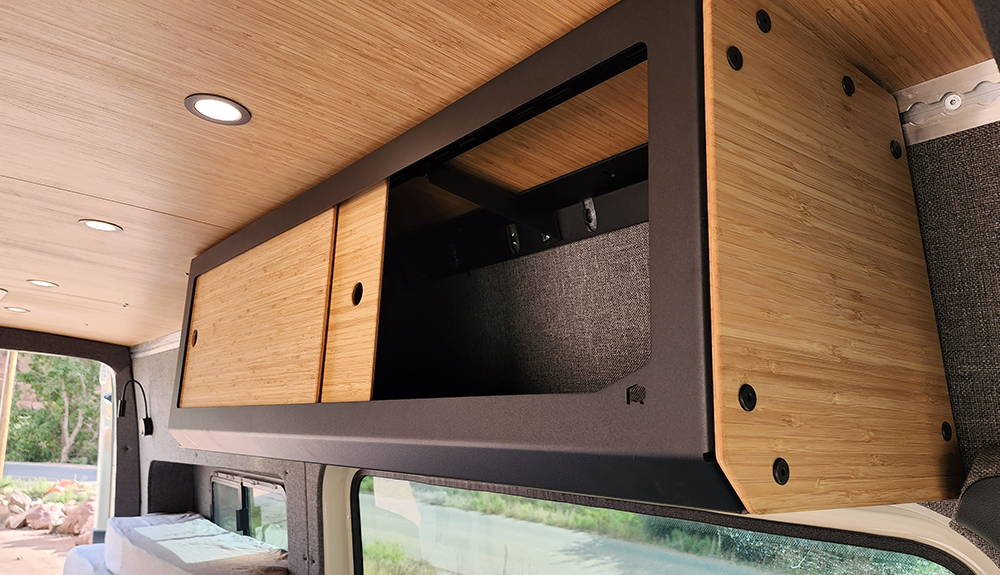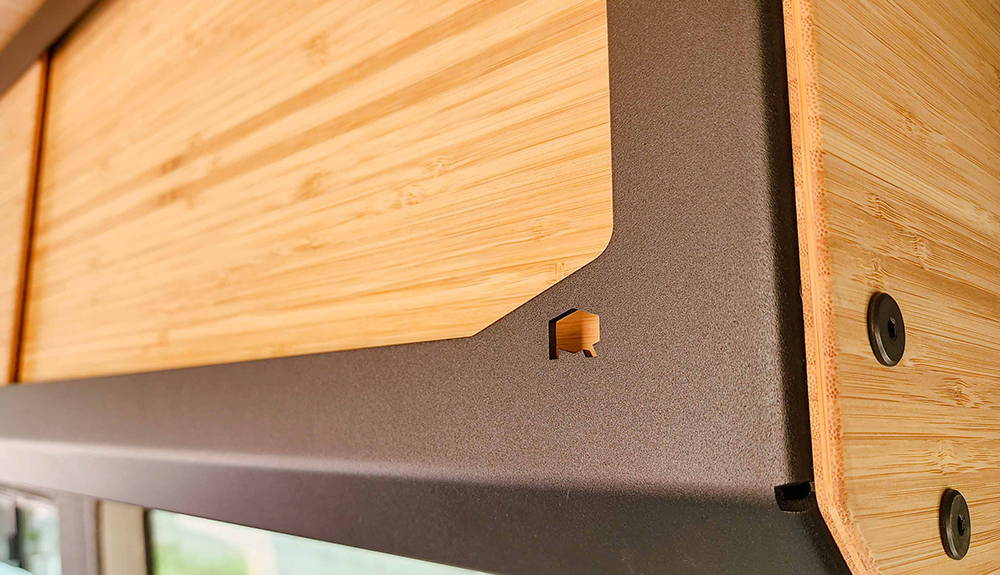 The kickit Couch is the perfect place to hang out and enjoy the views. It's designed to fit two adults with plenty of room to spare. It also has an impressive ability to hold a ton of cargo below the couch top. It's the perfect place to stash your toilet out of sight.
- Aluminum and bamboo construction
- Hinged lid
- Front pass-through
- Ability to mount Lagun Table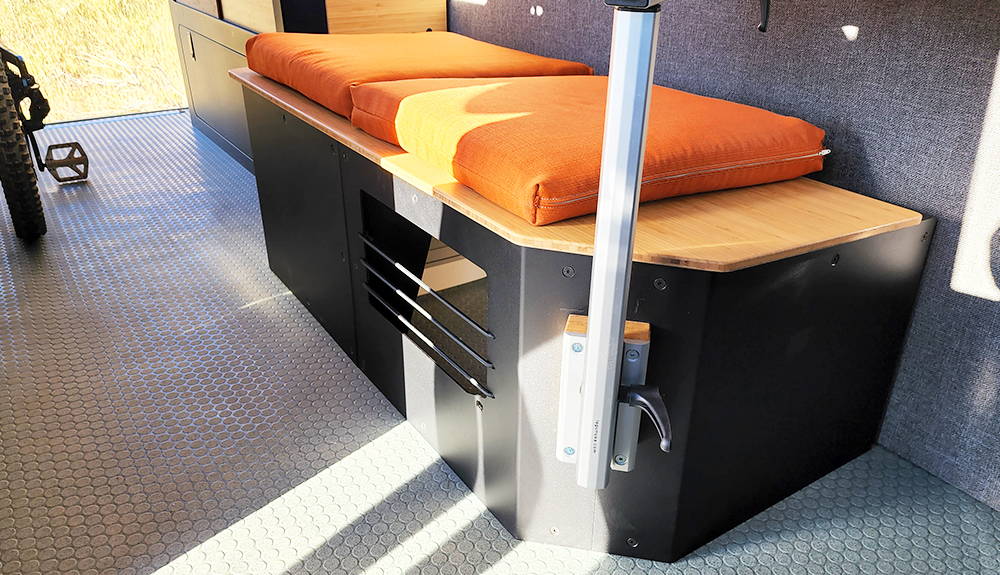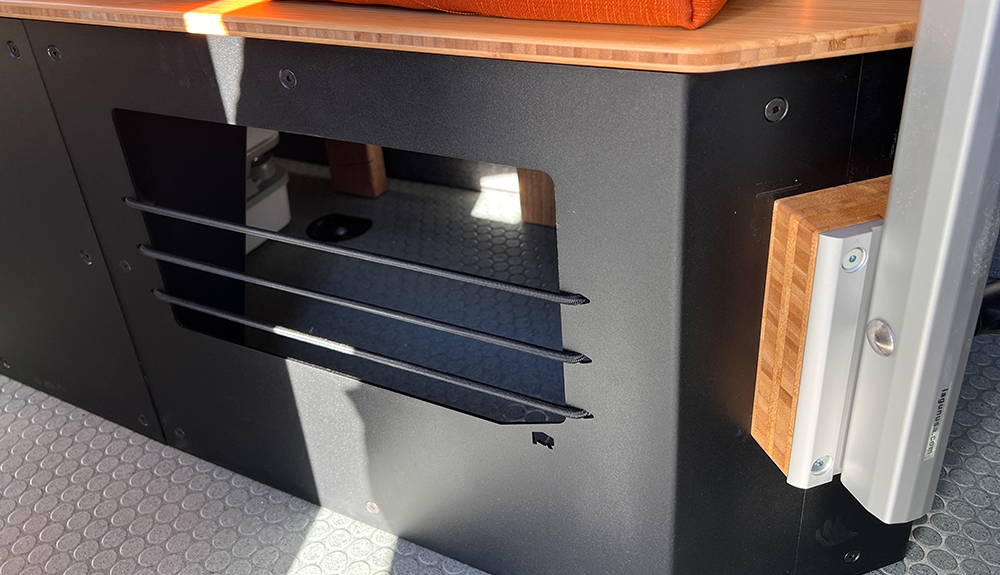 Neptune Two-Seater (4 ft Bifold)
Need to optimize van space and comfortably sleep two kids or one adult?
Get the Scopema Neptune 3P Bifold Two-Seater in black leatherette with a 3D mattress overlay. This versatile fold-out seat features a noir felt sleeping pad with integrated headrests, armrests, and shoulder seatbelts.
Details

- The Scopema Neptune 3P is 34 inches wide
- Bed is 4 feet long when folded flat
- Lateral slide 8.6"
- 175 pounds
- Seat has been engineered and pull-tested
- Isofix points for car seat compatibility
- Noir felt sleeping pad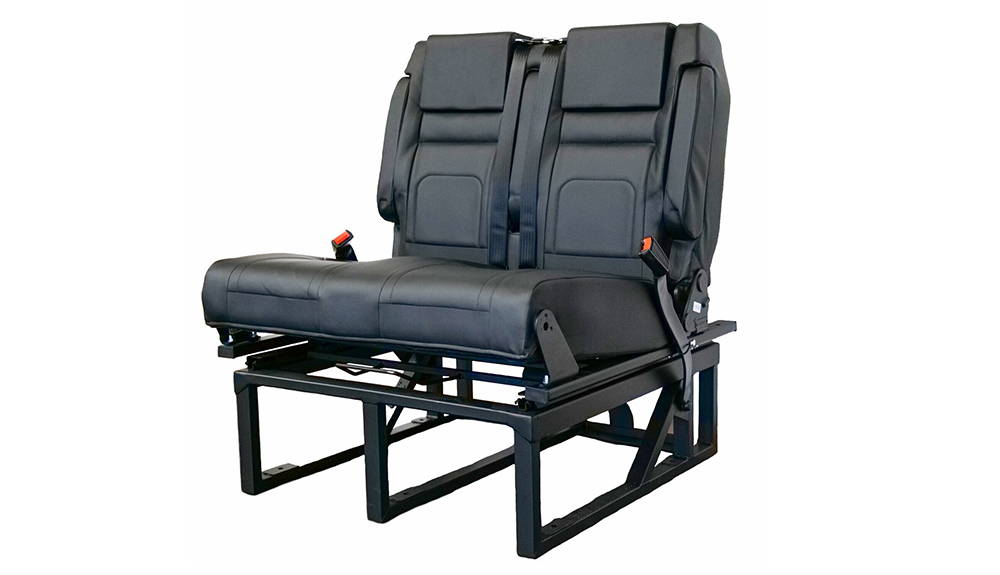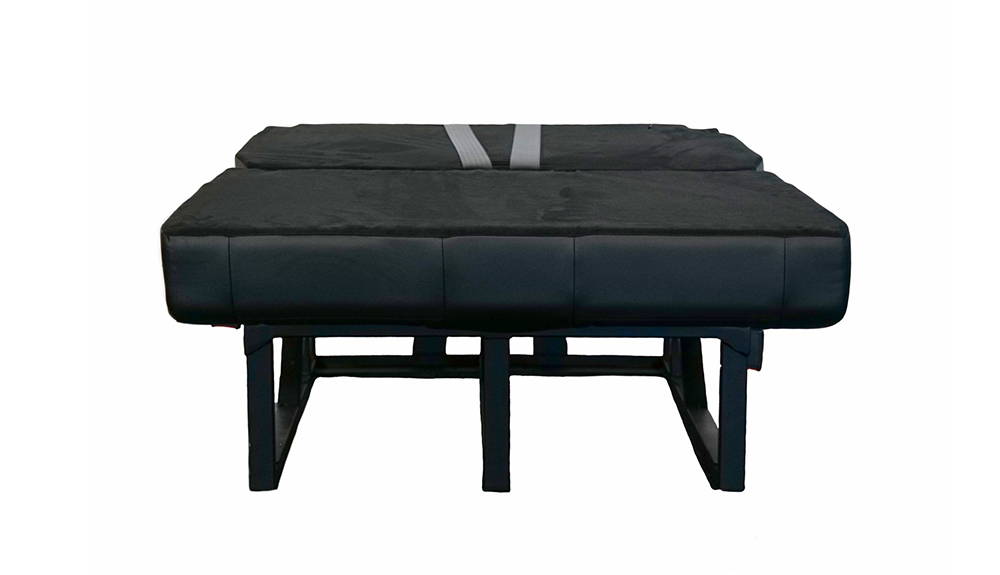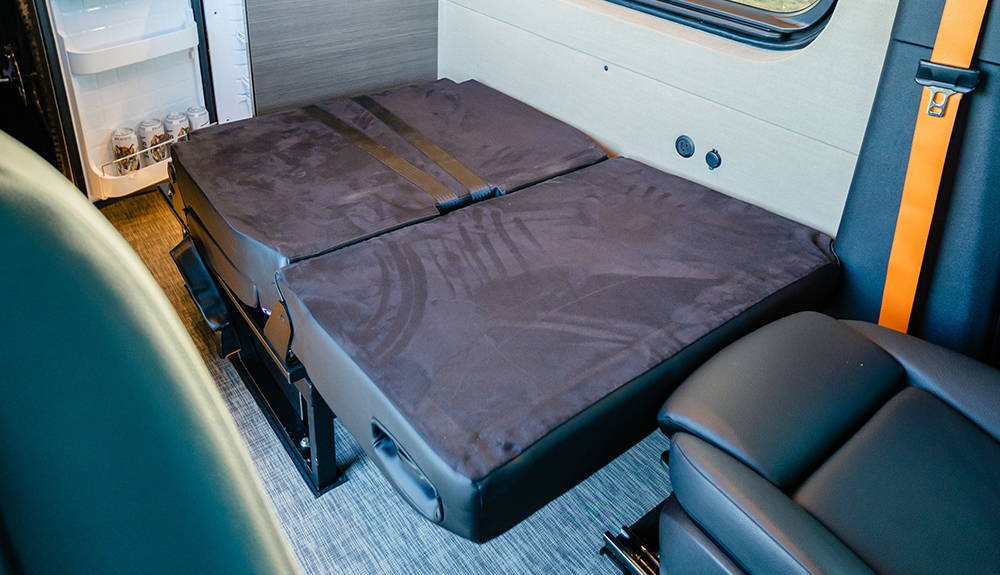 Our Bronze kitchen package is an excellent choice for maximizing the space inside your van's "living room" while still having the ability to bring cold drinks and snacks.
- Dometic CFX3 75 Dual Zone Powered Cooler
- Generous storage capacity of 75 liters to fit 113 cans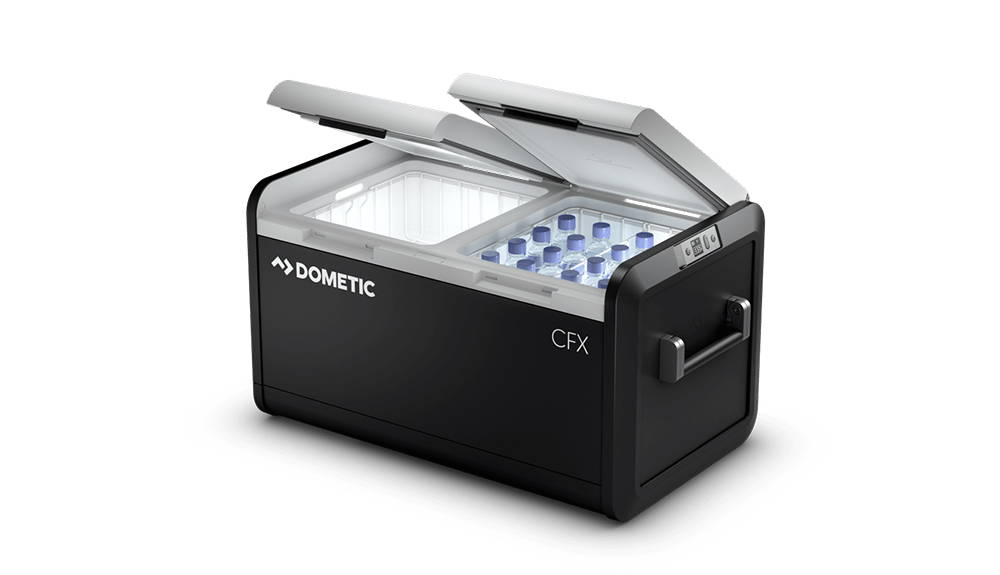 The Silver kitchen package features a full kitchen ready for cooking up a delicious meal on the road. It features a full aluminum and bamboo galley with a sink, fresh and grey water, drawers, and a drop-down table for outdoor dining.
- Round sink with glass lid and flip-up faucet
- Aluminum and bamboo kitchen galley
- 2 Drawers, 1 large cabinet
- Water pump
- 14 gallons fresh water
- 3.5 gallons grey water
- Isotherm Drawer 65 stainless steel refrigerator
- USB and 110v outlet integrated
- Foldout bamboo table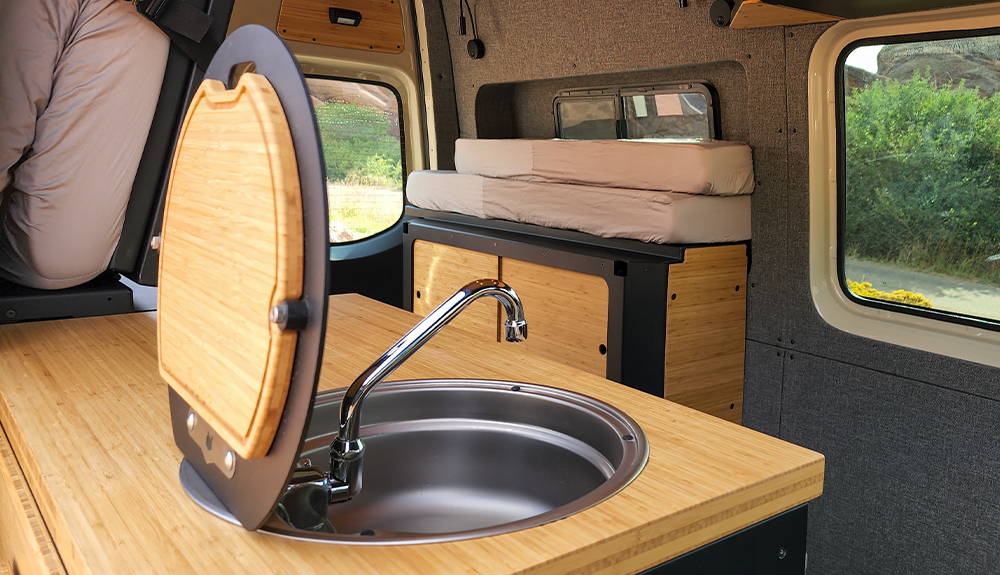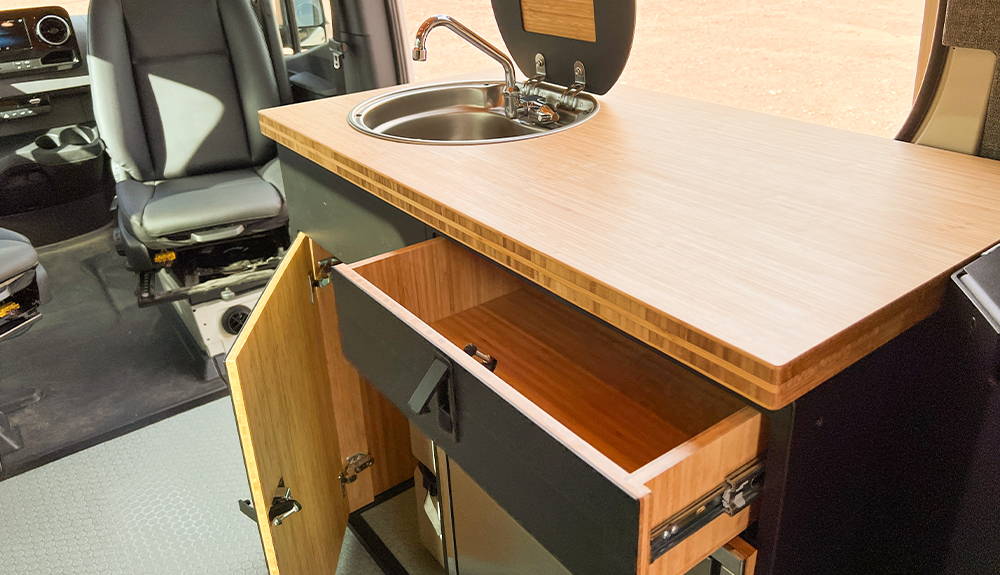 The major difference between the Silver and Gold packages is the water systems. With the Gold package, you get a 20-gallon tank over the wheel well. The Gold package also adds a hot-water shower off the rear and a spray port and water fill. The grey tank is still located under the sink.
- Round sink with glass lid and flip-up faucet
- Aluminum and bamboo kitchen galley
- 2 drawers, 1 large cabinet
- Water pump and accumulator
- 20-gallon water tank over wheel well
- 3.5 gallons grey water
- Isotherm Drawer 65 stainless steel refrigerator
- USB and 110v outlet integrated
- Foldout bamboo table
- Grub lid, glass replacement with cutting board
- Pex A fittings and valves
- Thermomate water heater
- Gas Growler Deluxe Black Edition 5-pound propane tank
- Water fill port
- Spray port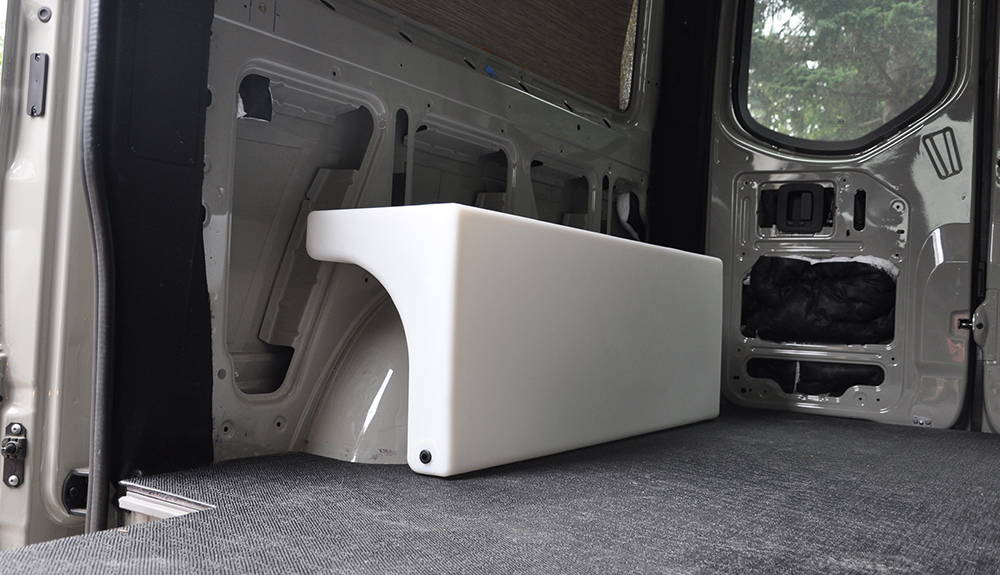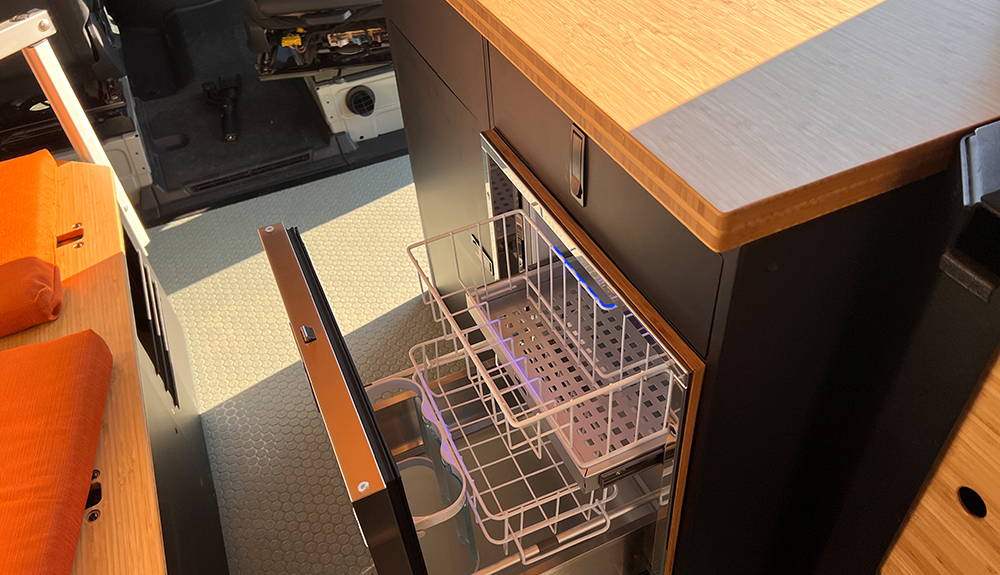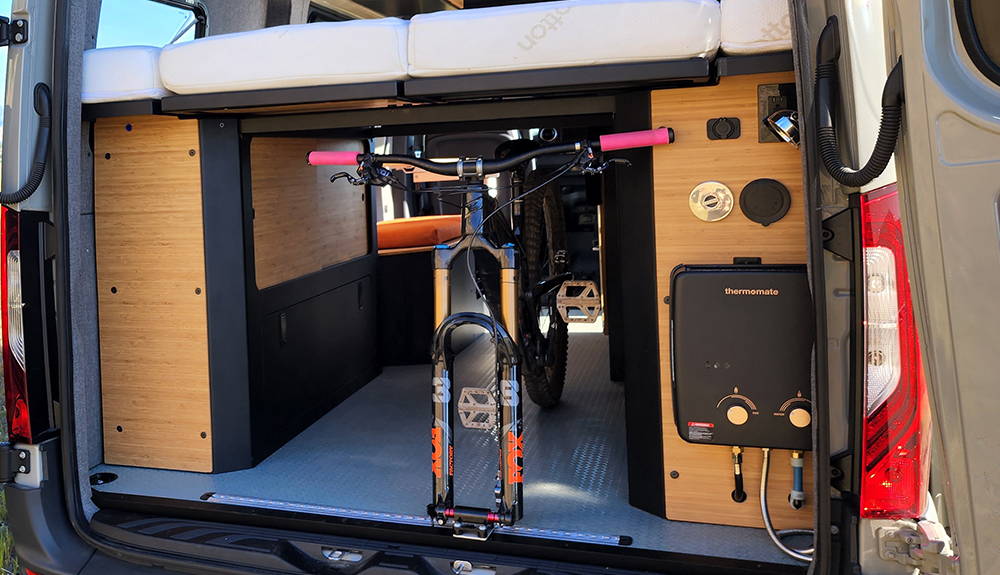 One of the coolest upgrades is the all-new Camp Deck Slim Roof Rack. It features an ultra-low profile on the sides at only 2.5 inches tall while still giving you the ability to run a light bar. The light bar seamlessly integrates into the front wind fairing.
For more information, Click Here
- Ultra-low profile at 2.5 inches
- Integrated light bar
- Built-in front fairing
- 1/4-inch-thick side rails
- Available with no light
- Made in the USA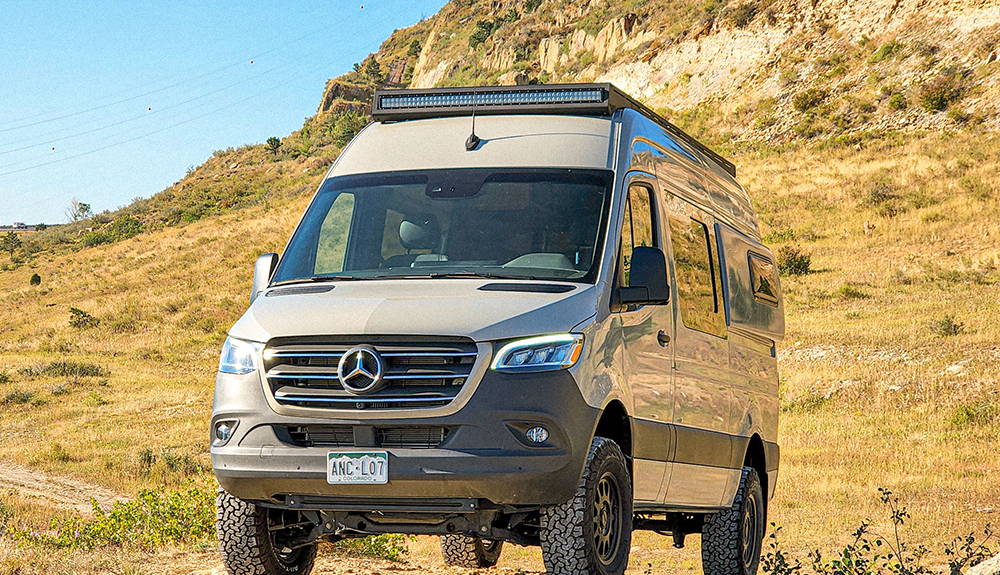 The Camp Deck Baja has all the same great features as the Camp Deck Slim but stepped up a couple notches. Do you want it to feel like daylight in the middle of the night? Then this is your setup! Five high-end Baja LP6 lights seamlessly integrate into the front wind fairing.
For more information, Click Here
- 5 Baja LP6 lights
- Integrated front fairing
- ¼-inch-thick side rails
- Available with no light
- Made in the USA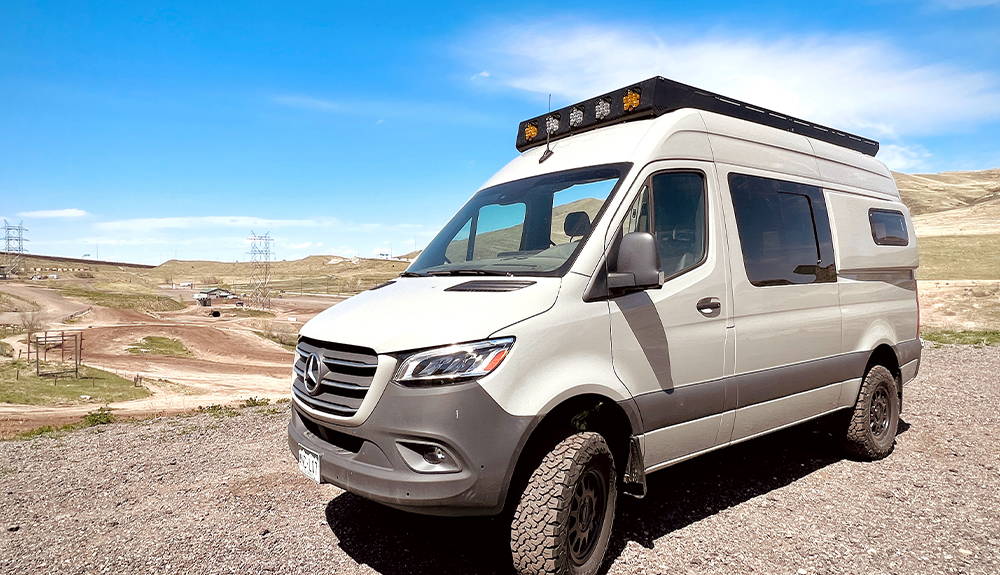 Wheel & Tire Upgrade /$-$$
Upgrading your van's wheels and tires not only makes your van look better, but it also adds a huge performance gain. Larger tires give you more ground clearance and traction when off-roading.
- Black Rhino or Method 17-inch wheels
- 275/70/17 BFG KO2 or Falken Wildpeak AT3 tires
- Owl Vans rear tire carrier for spare
- Front fender trim for clearance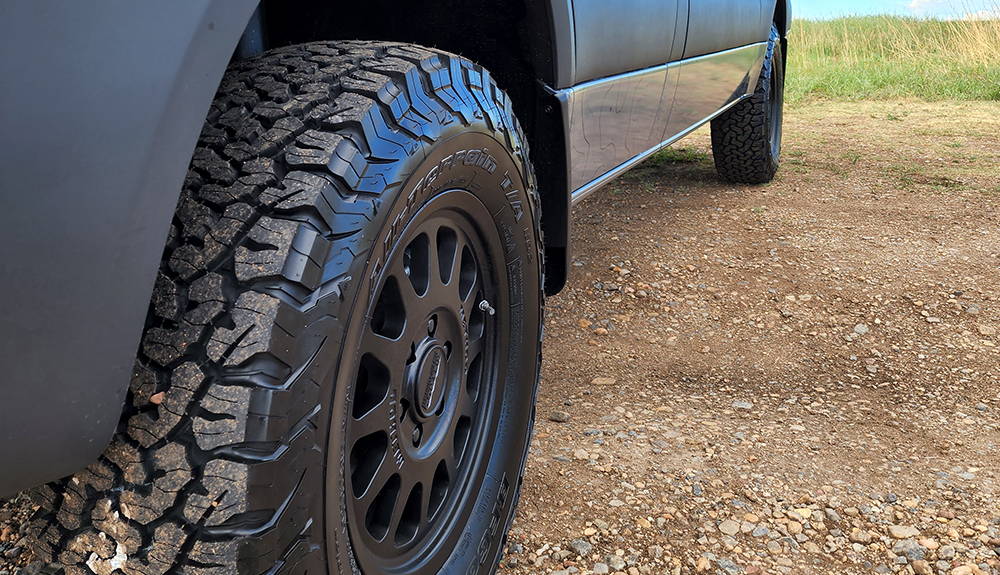 FIAMMA F45S 300 Awning /$-$$
Need a little extra shade? We've got you covered with our Rigwell Awning Mount Kit and the Fiamma F45S Awning. This manual awning is super easy to operate and provides a ton of shade for those hot summer days.
- Black exterior, royal gray fabric
- Projects out to 8 feet, 2 inches
- 10 feet, 1 inch long
- Direct mount to Camp Deck Roof Racks
- UV resistant, waterproof, and washable
- 51 pounds
- Fiamma part number 06759A01R
Our headliner shelf is the perfect way add more storage to your van. It's constructed of powder-coated aluminum and topped off with a custom bamboo strip. Jackets, soft goods, and window covers fit perfectly in this space.
- Extra storage
- Lightweight aluminum construction
- Powder-coated for durability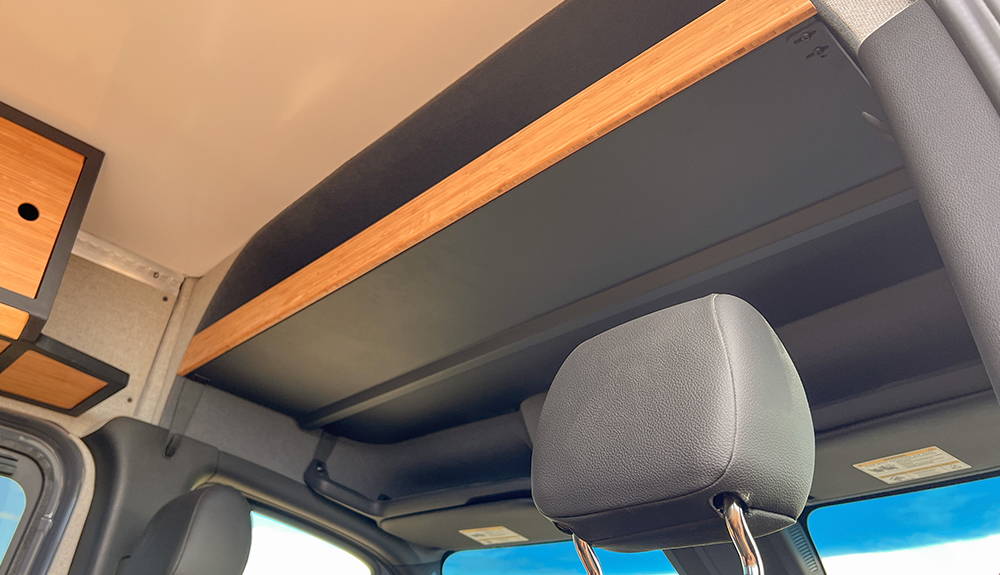 We're lucky enough to live in Colorado, where our days can be warm, but our nights in the mountains are always nice and cool. But if you live or are traveling in hotter, more humid climates, you might want to think about adding an AC unit to your build. The RecPro 9.5k RV Air Conditioner is a great option to keep you cool, and it works great with the Yeti 6000X unit.
- Requires Goal Zero 6000X upgrade
- 9.5k RV Air Conditioner
- 22 5/16 inches wide x 39 7/16 inches long x 8 3/8 inches high
- Low-profile design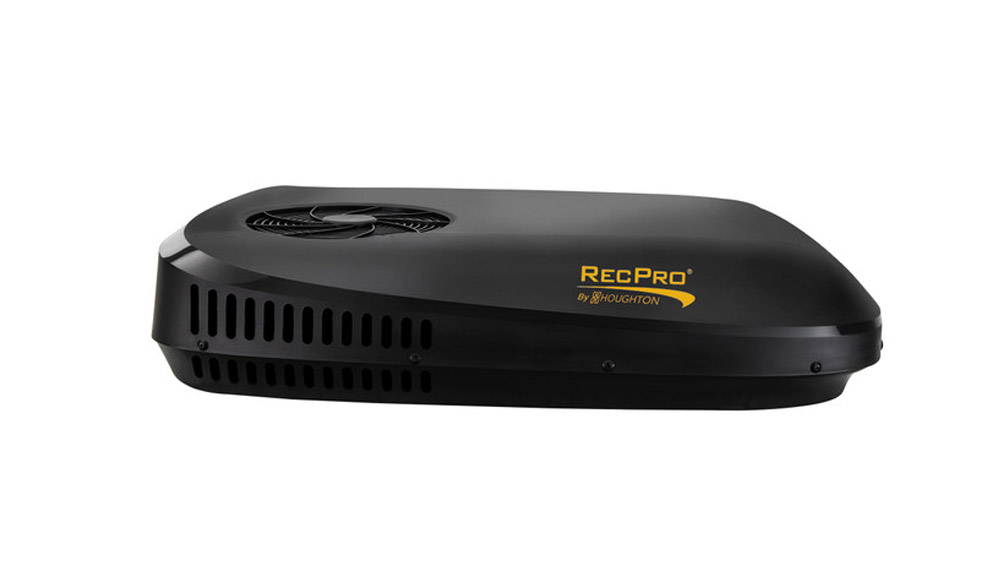 Lagun Table and Bamboo Top
The Lagun Table and tabletop are one of our favorite features. The Lagun Table is designed to have a ton of flexibility. It can be adjusted up and down and side to side. The tabletop can also be removed when it's not needed.
- Flexible table position
- Removable
- Bamboo tabletop
Window covers are one of the best investments you can make in your van. Heat and cold come pouring in through glass. By using insulated window covers, you can significantly reduce the heat and cool transfer. Want stealth camp? Once you put up your window covers, it's hard to tell if anyone is in the van.
- Superior temperature regulation
- 100% light blocking for stealth camping
- Magnets with maximum holding power
- Fabric made from 100% recycled PET plastic bottles
- Quick and easy install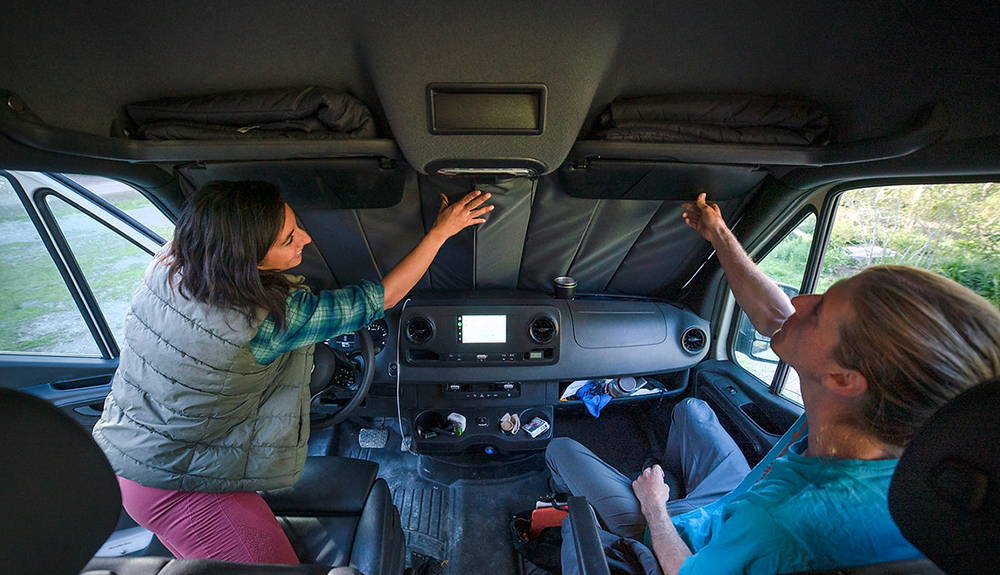 Are you looking to shower in your van without taking up the room of a permanent shower stall? The Geyser Shower is a great option that takes up very little space. Simply add water to the Geyser, and the system will heat the water and allow you to take a hot shower in your van. We like to use a portable shower pan to catch the water.
See how it works here.
- Built-in water heater
- Only uses 0.8 gallons of water per shower

- Adjustable water flow

- Extra scrubs available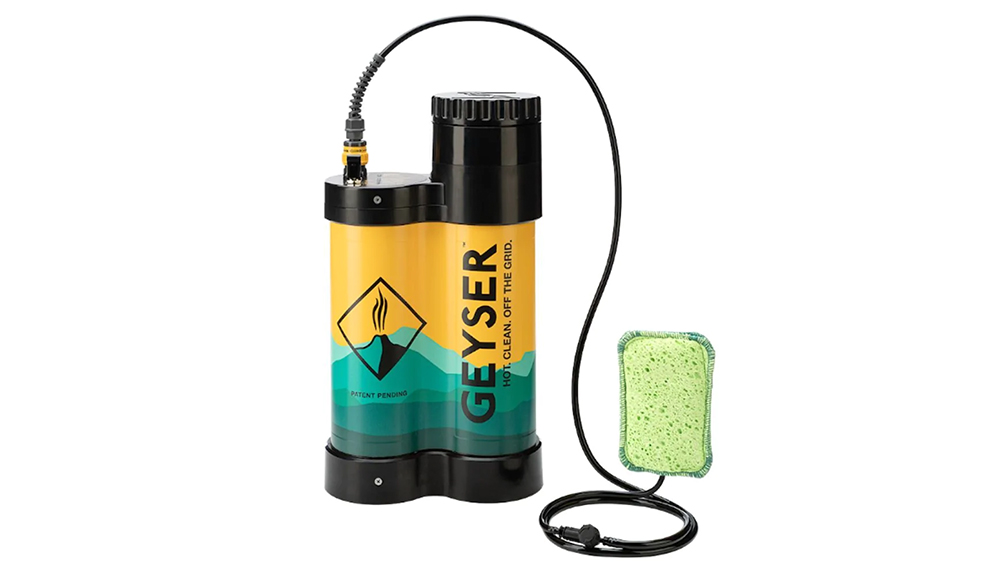 Pencils down! We'll have a phone or in-person consultation to review all aspects of your build and get to a final build sheet, price, and production timeline.

To save you a place in our build queue, we'll need a $1,000 refundable deposit. Once we are two months from starting your build, we'll need the payment for half of the total build cost. This ensures we can get all parts ordered and ready to go before we start building.

It's finally time to see your dream van come to life! We'll provide you with bi-weekly updates to allow you to see your build progress.

There's nothing we love more than the day we finally get to show our clients their new rig! We want every client to leave feeling confident about how to use their new van. We'll take as much time as needed to walk you through all the systems in your van. Thanks to our carefully engineered products, we feel confident standing behind our Rigwell branded products with a three-year limited warranty. We also back all third-party products that go into each van for one year. If you ever have an issue with your rig, give us a call. We're here to help and always answer our phones.
let's chat (888) 850 0844
"After searching for a new complete Sprinter build for a couple of months, I ran across Rocky from Rigwell. The pictures and walkthrough video sold me on the van and I contacted Cory at Rigwell asap. He answered all questions and made an out of state purchase extremely easy. In a week I was on a plane to Colorado to meet Cory and Rocky. Cory and the crew had the van all set up for its 6 state and 1300 mile journey home and within an hour or so we were on our way. After a few months ownership, Rocky has lived up to everything we expected and I would not hesitate to recommend Rigwell for anyone looking for an amazing build."
"Rigwell created an awesome van for us! Cory helped us find our Sprinter in Oklahoma and build Rhoamy. He created a full custom version van for us. We are asked at about every stop about the van and people are amazed by the quality. The quality of the cabinets, bed system, shelves, table, and toilet box are amazing! I'd highly recommend building with this company."
Van: Blanco / Build: 2021
"Biggest THANK YOU for building us the most incredible van! We just arrived back in Sonoma/Bay Area this weekend after a long (but, epic!) drive. We covered a lot of territory and already got some great use out of Blanco. I thought you'd like to see a few photos of Blanco over the course of our trip as well, so I've attached those for you above.
We really can't thank you enough for building us such an awesome new ride/home and for working such long days to get it to us in such immaculate condition. We have loved every second of it thus far and have found the build and layout to be pretty perfect for us (and not to mention, super high quality!). I especially love the A-track system and foldable, modular bed! You also did a great job walking through everything last week. Again, thanks a million to you and the whole Rigwell team."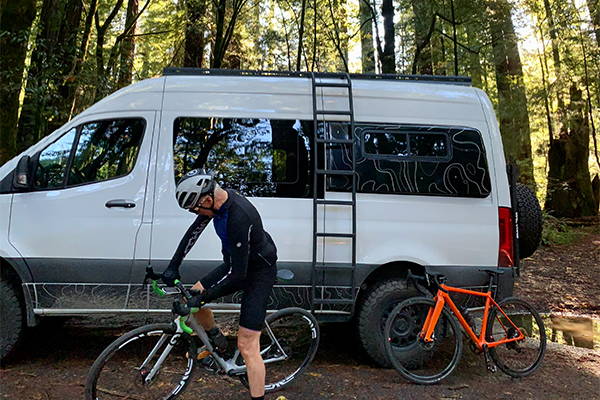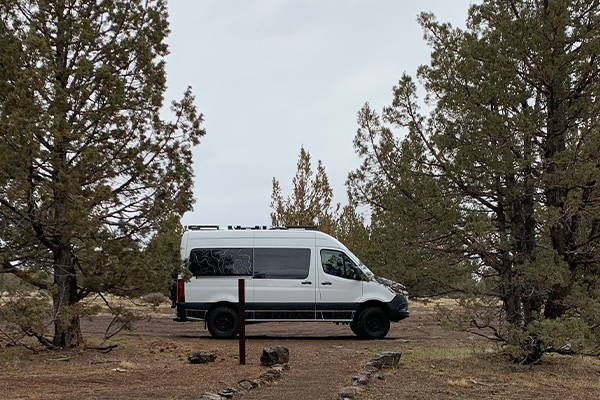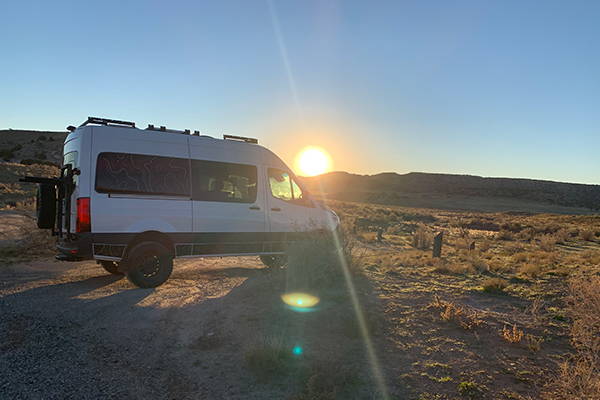 LET'S GET THE
BALL ROLLING